Power Regulating Transformer promotes actionable control.
Press Release Summary: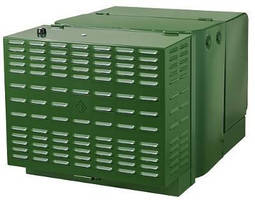 Gridco Systems Power Regulating Transformer™ (PRT) helps North American distribution utilities effectively integrate DER, enhance CVR and peak demand management programs, ensure PQ to sensitive customer equipment, and increase system reliability. Single-phase, 50 kVa, multifunction device combines pad-mounted distribution transformer with power electronics-based Gridco Systems In-line Power Regulator™ in integrated assembly for installation on existing distribution transformer pads.
---
Original Press Release:

Gridco Systems Introduces Industry's First Integrated Power Regulating Transformer for DER Integration and Energy Efficiency (CVR/VVO)



Easy-to-deploy, utility-grade system designed to address multiple grid applications



WOBURN, Mass., and ORLANDO, Fla. -- Gridco Systems, a leader in agile grid infrastructure solutions, today announced the launch of a new product, the Gridco Systems Power Regulating Transformer™ (PRT). The single-phase 50kVa pad-mounted multi-function device is designed for North American distribution utility use in edge-of-grid applications for more actionable control.



The first commercially available product of its kind, the PRT combines a best-in-class pad-mounted distribution transformer with a power electronics-based Gridco Systems In-line Power Regulator™ (IPR), packaged in an integrated assembly for installation on existing distribution transformer pads. The PRT-50 provides distribution utilities with a new tool to more effectively integrate Distributed Energy Resources (DER), enhance Conservation Voltage Reduction (CVR) and peak demand management programs, assure power quality to sensitive customer equipment, and increase overall system reliability.



Applications

--  DER Integration: manage power fluctuations, including voltage rise and harmonics, caused by variable residential and utility-scale DER

--  Enhanced Power Quality: compensate for sags, swells and harmonics to prevent impact to sensitive customer equipment, extend customer and utility asset life, and prevent system-wide failures

--  CVR/VVO: enhance new or existing CVR/VVO schemes to achieve the highest possible system efficiency, energy savings, and peak demand reduction to alleviate capacity constraints, without relying on third-party programs or customer behavioral changes



Features and Benefits

--  Load Voltage Regulation: continuously regulates load voltage across a wide range (boost and buck, ±10%), in both forward and reverse power flow

--  Sag/Swell Mitigation: fast response protects sensitive loads from voltage sags and swells caused by grid disturbances

--  High Efficiency: power electronics subsystem has greater than 99% efficiency, thanks to the low-loss topology of Gridco's IPR

--  Reactive Power Compensation: regulates power factor by dynamically injecting or absorbing reactive power

--  Harmonic Cancellation: actively corrects source-current and load-voltage harmonic distortion

--  Dynamic and Precise: responds in sub-cycle timescales and operates continuously and precisely

--  Power Quality Monitoring: enables high-resolution PQ monitoring via integrated voltage and current sensors

--  Transformer Monitoring: provides top oil temperature information and tracks loading conditions

--  Pad-Compliant Footprint: installs as a conventional distribution transformer using standard concrete pad designs, utilizing existing transformer locations

--  Operational Flexibility: operates autonomously or can be integrated into utility SCADA/DMS systems and/or the Gridco Systems Grid Management and Analytics Platform™ (GMAP) using the built-in Gridco Systems Distributed Grid Controller™ (DGC)

--  Utility-Grade: purpose-built to withstand outdoor environments for 25 years, employing ruggedized and passively cooled power electronics for high reliability and maintenance-free operation; supports non-disruptive failure-to-normal and in-field replacement of active regulation subsystem



"With our flexible product architecture, we can now provide utility customers the benefits of In-line Power Regulators in a form factor ideally suited to underground distribution networks," said Naimish Patel, CEO at Gridco Systems. "We are committed to working closely with utilities and world-class partners to deliver cost-effective and easily deployable solutions that address the challenges of today while laying the foundation for tomorrow."



To learn more about the company's full suite of utility solutions, including the PRT, visit Gridco Systems at DistribuTECH 2016, booth #2125, and online at http://gridcosystems.com/. Additionally, the company will be presenting on a panel entitled: "Rethinking the Grid Edge - New Approaches and Strategies to Secondary Management for Improved Grid Efficiency and DER Hosting Capacity," on Thursday, February 11(th).



About Gridco Systems

Gridco Systems is a leader in agile grid infrastructure solutions, enabling utilities to more effectively integrate renewable and distributed generation, increase energy efficiency, manage peak capacity, and improve system reliability. The Gridco Systems emPower™ Solution combines modular power electronics, advanced controls, distributed networking, and power system analytics to deliver the industry's only end-to-end hardware and software platform purpose built to solve utilities' current and emerging distribution challenges in a distributed, dynamic, and decoupled fashion. To learn more, please visit http://gridcosystems.com/.



Gridco Systems® is a registered trademark of Gridco Systems.



Gridco Systems Power Regulating Transformer™ (PRT), Gridco Systems emPower™ Solution, Gridco Systems Grid Management and Analytics Platform™ (GMAP) and the Gridco Systems Distributed Grid Controller™ (DGC) are trademarks of Gridco Systems.



Media and Analyst inquiries:

Joanna Hamblin

Marketing Manager

Gridco Systems

339-298-3055

jhamblin@gridcosystems.com

More from Architectural & Civil Engineering Products