Rotary Positioning Stages / Tables
Power Range of ORMEC's XD Indexer Family Expanded to Meet Wide Array of Applications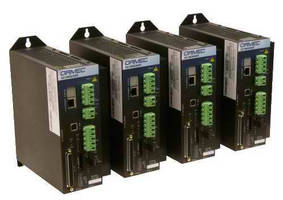 Rochester, New York, USA - ORMEC Systems Corp. New 400V models have been added to ORMEC's XD-Series Indexing Servo Drive family. These high-performance, single-axis models further expand the XD Indexer family power range, the widest in the industry.

The new 400V models, with 1.4, 2.4 and 4.8 kW ratings, support 3x peaking and 50% higher power density. This small footprint decreases panel space requirements. The complete XD Indexer family includes a full complement of 200V and 400V models ranging from 0.6 to 24 kW continuous power rating (3 to 60 amps current). A cost-effective redundant Safety Circuit is available for implementing EN13849-1 standards. The XD Indexer servo drives have rugged steel enclosures that reduce overall EMI emissions.

Cost-effective application solutions with the XD Indexer range from challenging to simple and include: intelligent conveyor control, ultrasonic welding, pick and place, labeling, linear positioning, feed-to-length, flying shear, rotary knife, stamping, pin insertion, drilling, grinding, tension control, and parts retrieval. Multi-axis applications are implemented by interconnecting more than one XD Indexer.

"The XD Indexer family continues to expand and evolve as a cost effective, flexible product that our customers simply take out of the box and start using immediately," states Dave Cambron, Applications Support. "The XD Indexer's intuitive software and comprehensive debugging tools are used to meet the demands of compressed project schedules and limited engineering resources that manufacturers face every day. Installations that took hours or days are now accomplished in a very small fraction of that time."

XD Indexers include MotionSet Software, an intuitive interface for simple setup, testing and installation. Intuitive controls such as 'drag and drop' I/O assignments, digital scope and menu driven programming make the configuration, debug and installation of complex applications quick and easy. A built-in Motor Wizard simplifies non-standard motor configuration providing seamless integration of most third party motors. This simplifies non-standard motor integration for quick commissioning of existing motors in the field.

About ORMEC

ORMEC's industry experts provide motion control solutions in the aerospace, automotive, energy, medical, pharmaceutical, food and beverage, textile, paper, packaging, metal forming and converting industries. Our systems excel in the most demanding applications including packaging, converting, labeling, web and material handling, as well as general assembly and winding.

Our highly reliable motion control solutions integrate motion controllers, logic control, servo drives, servo motors, linear motors, actuators, HMIs, and I/O into cost-effective factory automation solutions. ORMEC provides application expertise and systems solutions for all types of motion control challenges and offers a team of Systems and Applications Engineers with over 80 years of motion control experience. The company continues to be a leader in the development of motion control solutions and technology, including being the first to introduce an industrial motion control system using a high-speed FireWire network.

For further information visit the ORMEC website at www.ormec.com. Detailed specifications, manuals and videos for the XD-are available at www.ormec.com/Indexer.


More from Laboratory and Research Supplies and Equipment