Power Quality Relay detects disturbances on power line.
Press Release Summary: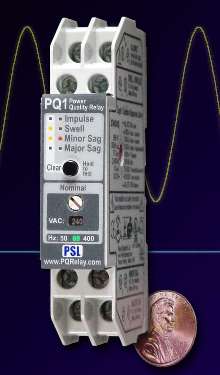 Model PQ1 detects voltage sags, interruptions, voltage swells, and high frequency impulses. It has response time of 500 nanoseconds for impulses, and built-in standard depth-duration curves for responding to voltage sags and swells. Simple interface features AC power in, and relay contacts out. Automatically adjusting to 50 Hz, 60 Hz, and 400 Hz power for world-wide use, relay adapts to every standard voltage in the world.
---
Original Press Release:
Tiny Instrument Grabs Power Glitches

The new PQ1 Power Quality Relay detects disturbances on the power line that damage or disrupt process automation, robotics, and other sensitive industrial equipment.

Less than one-tenth the size and one-twentieth the cost of traditional power quality monitors, the tiny PQ1 has the simplest possible interface: AC power in, relay contacts out. Engineers can use it as a diagnostic tool, or it can be built into larger automated manufacturing systems as part of a remote diagnostic system. More information, including a complete data sheet, can be downloaded from www.PQRelay.com. The UL-listed, CE-marked, TUV-certified relay is available from stock at $276.

Despite its tiny size and low cost, the PQ1 Power Quality relay detects all common power quality events - voltage sags, interruptions, voltage swells, and high frequency impulses. It has a response time of 500 nanoseconds for impulses, and has built-in standard depth-duration curves for responding to voltage sags and swells. Automatically adjusting to 50 Hz, 60 Hz, and 400 Hz power for world-wide use, the PQ1 Power Quality Relay adapts to every standard voltage in the world, including 100V (Japan), 120V (North America), and up to 240V (Europe and parts of Asia).

Sales contact:

Barry Tangney

Barry@PowerStandards.com

Power Standards Lab

TEL ++1 (510) 658-9600 FAX ++1 (510) 658-9600

3908 Adeline Street, Emeryville, California 94608 U.S.A.

Alex McEachern

http://www.PowerStandards.com

http://www.Alex.McEachern.com

3908 Adeline Street

Emeryville, CA 94608 USA

TEL ++1-510-658-9600

FAX ++1-510-658-9688
More from Services