Power Quality Meter complies with EN50160 standards.
Press Release Summary: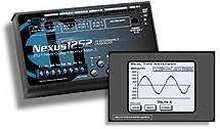 Nexus 1252 performs flicker analysis, which can be damaging to equipment and humans. It provides interharmonic analysis, with logging and monitoring for short- and long-term evaluation. Incorporating DNP 3.0 protocol, unit maps up to 136 measurements to DNP Static points. Up to 16 relays and 8 resets are controlled through DNP. Meter offers high-speed transient recording, fault recording, and voltage surge and sag recording at up to 512 samples/cycle.
---
Original Press Release:

Electro Industries/GaugeTech Introduces Nexus 1252 Performance Enhanced Energy and Power Quality Meter


Westbury, New York (August 5, 2003) - Electro Industries/GaugeTech, the Leader in Web Accessed Power Monitoring, introduces the Nexus 1252 performance enhanced energy and power quality meter.

The latest in the industry-leading Nexus series, the unit provides advanced and new functionality including:
o EN50160 Flicker and Compliance Monitoring
o Interharmonic Analysis
o DNP 3.0 Level 2 Plus Protocol
o Turbo Downloads - Almost 3x Faster
o Customized Modbus Mappings - Multiple Programmable Modbus Formats

Compliant with EN50160 international standards, the 1252 enables users to perform flicker analysis that can be damaging to both equipment and humans. The unit provides you with logging and monitoring for instantaneous Short Term (PST-10Min) and Long Term (PLT - 4 hour) evaluation. Additionally, conduct a comprehensive Power Quality analysis by viewing Interharmonics - the further frequencies between the harmonics of the power frequency voltage and current which are not integers between the fundamental.

Incorporating the industry's most advanced DNP 3.0 protocol, the Nexus 1252 complies with all DNP Level 1 and Level 2 certification requirements as well as additional key features:
o Mapping of up to 136 measurements to DNP Static points
o Up to 16 Relays and 8 resets controlled through DNP
o Flexible combinations of 4 events (Binary Input Change, Frozen Counter, Counter Change, Analog Change) for up to 250 Events
o Freeze Commands

Standard Advanced Features Include:
High Performance Revenue Metering
o Patented Pending ACCU-MEASURE Sensing Technology
o Exceeds all ANSI C-12 and IEC 687 Specifications
o Auto Calibration with Temperature Compensation
o On-Board Time of Use
o Load Aggregation
o Transformer Loss Compensation

High Performance Power Quality Monitoring
o High-Speed Transient Recording
o Record up to 512 Samples per Cycle
o Voltage Surge and Sag Recording
o EN50160 Flicker and Compliance Monitoring
o Fault Recording and Analysis
o Harmonic Analysis to 255th Order
o Interharmonic Analysis
o On-Board CBEMA Logging
o GPS Clock Sync

Advanced Memory, Communication, Control and RTU Functions
o 4 High-Speed Com Ports
o Multiple Protocols
o Optional On-Board Direct Internet/Ethernet Access (Total Web Solutions)
o Optional Internal 56K Modem
o Built-in RTU Functionality
o Built-in PLC Functionality
o 90msec. High Speed Updates for Control
o MV-90 Compatible

Electro Industries/GaugeTech, a General Electric Company strategic alliance, sets the industry standard for advanced power quality, monitoring and reporting, revenue metering and substation data acquisition and control.

For further information or to request a FREE Metering Guide and Products and Application CD, contact (please include your contact information).

Gregory H. Slote
Marketing Manager
Electro Industries/GaugeTech
1800 Shames Drive
Westbury, NY 11590
Tel (516) 334-0870
Fax (516) 338-4741
marketing@electroind.com

More from Packaging Products & Equipment