Power Quality and Energy Analyzer captures 400 Hz measurements.
Press Release Summary: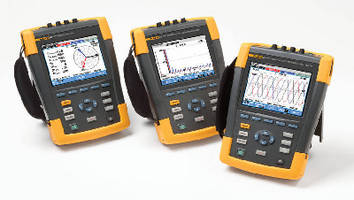 Designed for avionics and defense technicians, Fluke® 437 Series II can record up to 150 parameters on 4 phases simultaneously. Unit utilizes Unified Power Management algorithm to measure and quantify energy losses due to harmonics and unbalance issues, allowing user to pinpoint origin of energy waste. PowerWave capture system displays waveforms and half cycle RMS voltage and current values in full detail to measure interactions during switching operations to prevent motor/drive/load mismatches.
---
Original Press Release:

The New Fluke 437 Series II Power Quality and Energy Analyzer Captures 400 Hz Measurements in Critical Avionic and Military Power Systems



EVERETT, Wash. -- Fluke Corporation introduces the Fluke(®) 437 Series II 400 Hz Power Quality and Energy Analyzer featuring the most advanced power quality functions available in a rugged, reliable handheld tool. Designed specifically for technicians in avionics and defense, it's ideal for submarine, aircraft, military ship and other transport applications where 400 Hz measurements are mission critical.



The Fluke 437 is the latest model in theFluke 430 Series II Three Phase Power Analyzers, the first tools to use a patented algorithm, Unified Power Management, to measure and quantify energy losses due to harmonics and unbalance issues, allowing users to pinpoint the origin of energy waste within a system.



The 435 and 437 models include PowerWave, a fast capture system that displays waveforms and half cycle RMS voltage and current values in full detail to measure interactions during switching operations to prevent motor/drive/load mismatches.



Both are fully compliant with IEC 61000-4-30 Class-A. Each can monitor systems with up to ten power quality parameters on one screen, can record up to 150 parameters on four phases simultaneously, in accordance with the EN50160 standard, and are safety rated 600 V CAT IV/1000 V CAT III.



Pricing and Availability

The Fluke 437 model is available now. It includes a hard carrying case with rollers, Li-ion battery pack, new thin flex current probes, test leads with clips, battery charger, USB cable, color localization set, and PowerLog software. For more information, visit: www.fluke.com/pq.



For information on Fluke tools and applications, or to find the location of your nearest distributor, contact Fluke Corporation, P.O. Box 9090, Everett, WA USA 98206, call (800) 44-FLUKE (800-443-5853), fax (425) 446-5116, e-mail fluke-info@fluke.com or visit the Fluke Web site at www.fluke.com.



About Fluke

Founded in 1948, Fluke Corporation is the world leader in compact, professional electronic test tools. Fluke customers are technicians, engineers, electricians, and metrologists who install, troubleshoot and manage industrial, electrical and electronic equipment and calibration processes.



Fluke is a registered trademark of Fluke Corporation. The names of actual companies and products mentioned herein may be the trademarks of their respective owners. For more information, visit the Fluke website.



For more information:

Leah Friberg

Public Relations Manager

(425) 446-5905

leah.friberg@fluke.com



Web Site: www.fluke.com

Related