Power Quality Analyzers are rated for service entrance.
Press Release Summary: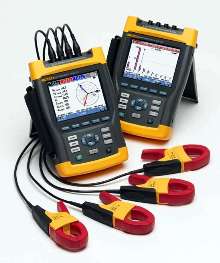 Series 430 3-phase handheld analyzers are rated to CAT III, 1000 V/CAT IV, 600 V for all 4 channels, enabling power quality testing at service entrance. Measurements include true-rms voltage and current, frequency, power, energy, unbalance, and flicker. AutoTrend records everything on screen, while System-Monitor provides diagnosis of system performance. Memory stores up to 50 screens and up to 10 measurements, each comprising 32 parameters.
---
Original Press Release:
Fluke Power Quality Launches First Handheld Three Phase Analyzers Rated for Use at the Service Entrance

Simple interface, automated recording and CAT III, 1000 V / CAT IV 600 V rating combine to make new meter ideal for troubleshooting or predictive maintenance

EVERETT, WA - Fluke Corporation, the world's leading supplier of test and measurement equipment, introduces the first three phase power quality analyzers that are rated to CAT III, 1000 V / CAT IV, 600 V for all four-channels, enabling power quality testing at the service entrance.

The Fluke 430 Series three-phase handheld power quality analyzers from Fluke Power Quality offer unique features like AutoTrend, which records everything on the screen automatically, and System-Monitor, a quick diagnosis of system performance against user defined limits. You can even view stored data while continuing to record. Together the features help to quickly diagnose problems and build benchmarks for predictive maintenance.

Simple to use with immediate results

Designed for power quality specialists as well as electricians and plant technicians working in industrial, healthcare, business, and public services settings, the Fluke 430 Series has functions typically only found on expensive power recorders. Yet its menu-driven interface allows users to be hooked up and recording in minutes.

Full measurement capability and the highest safety rating

With a CAT III, 1000 V / CAT IV, 600 V safety rating the Fluke 430 Series can measure all phases, neutral and ground on virtually every connection in a low voltage electrical distribution system. The meter's measurement capabilities encompass all power system parameters including true-rms voltage and current, frequency, power, power consumption (energy), unbalance and flicker. They also automatically capture events like transients (as fast as 5 microseconds and as high as 6kV), interruptions, rapid voltage changes and dips and swells.

Rugged design for field use

Optimized for mobile applications, these rugged instruments operate up to seven hours on a single battery charge. The large data memory stores up to 50 screens and up to 10 measurements each comprising 32 parameters - including setups and trend data - recorded for more than a year, all of which can be transferred to a PC via FlukeView. software for analysis or use in reports.

About Fluke power quality analyzers

The 430 Series three-phase power quality analyzers are supplied in a hard case as a complete package with four clamps and five test leads and are available from authorized Fluke distributors. List price of the Fluke 433 Power Quality Analyzer is $3,500. The Fluke 434 kit complete with FlukeView software and optical connection cable is $4,250. For more information on Fluke test and measurement products, visit www.fluke.com or contact Fluke Corporation, P.O. Box 9090, Everett, WA USA 98206, call (888) 492-7544, fax (425) 446-5116, or e-mail [email protected].

About Fluke

Fluke Corporation is the global leader in test and measurement technology. Fluke products are used by technicians and engineers in calibration, service, installation, maintenance, manufacturing test, and quality functions in a variety of industries throughout the world.