Power Quality Analyzer records and displays power issues.
Press Release Summary: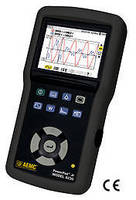 Suitable for troubleshooting single- or 3-phase balanced load networks, PowerPad Jr. 8230 measures and records power system quality and performs energy metering. Data logger measures up to 660 Vrms or Vdc as well as 6,500 Aac or 1,400 Adc, recording and displaying 17 power quality parameters. Users can also determine harmonic problems and display THD. Able to store up to 1 MB of data and up to 8 screen captures, analyzer includes DataView software for calculation and analysis.
---
Original Press Release:

CAS DataLoggers Offers New Single Phase Power Quality Analyzer



Economical Troubleshooter Records and Dispalys Your Power Issues



CHESTERLAND OH— For many companies, winter is an ideal time to troubleshoot individual machinery and in-plant power distribution panels, along with other key tests such as motor startup analysis and verification of power distribution circuits. For this critical work, users need a dependable yet economical device to find and analyze their specific power issues. Now CAS DataLoggers has partnered with AEMC to offer the new PowerPad Jr. 8230 Single Phase Power Quality Analyzer, which is easy-to-use, compact and shock-resistant. Ideal for technicians and engineers to measure and carry out diagnostic work and power quality work on single- or three-phase balanced load networks, these new power loggers are complete with FREE software and are now available as an all-in-one solution for your critical power analysis and machine maintenance.



Perfect for measuring and recording power system quality (kW, VA, VAR) and performing energy metering (kVAh, VARh, kWh), the new PowerPad Jr. Model 8230 is a single-phase power quality analyzer for a variety of applications. The new data logger measures up to 660Vrms or VDC and also measures up to 6500AAC or 1400ADC (probe-dependent), recording and displaying up to 17 different power quality parameters. Users can also determine harmonic problems originating from source or load and display total harmonic distortion (THD-F and THD-R) for voltage and current. The logger displays Min, Max and Average Volts and Amps, Crest Factor, Peak value, and K-Factor. The device also calculates and displays Watts, VARs and VA, Power Factor, and Displacement Power Factor for single-phase and balanced three-phase.



The PowerPad Jr. stores up to 1MB of trend-recorded data and up to 8 screen captures, and also displays individual harmonic values and % for Volts and Amps through the 50th harmonic. The power logger also captures, displays and stores inrush current waveforms and statistics. The data logger is also fully configurable using the included software or the front panel. Large functional color digital and graphic displays are available for Configuration, Recording Setup, Inrush mode, Waveform mode, Trend Recording, and Harmonics mode.



As an added value, FREE DataView software is included with these data loggers for quick calculation and analysis. DataView is easy to learn and navigate for hassle-free identification and viewing of a variety of power issues. Users can download all stored data to DataView via optical with isolated USB port and also capture up to 4096 alarm events using up to 10 different thresholds. With the included software, the PowerPad Jr. offers users everything they need for their power quality analysis projects.



For more information on the new Single Phase Power Quality Analyzer, other cost-effective power dataloggers, or to find the ideal solution for your application-specific needs, contact a CAS Data Logger Applications Specialist at (800) 956-4437 or visit the website at www.DataLoggerInc.com.



More from Software