Power Modules provide integrated dual AC and DC input.
Press Release Summary: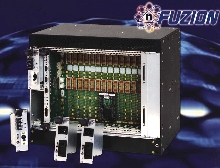 C0818D packet-switched backplane enclosure and C0814D high-density enclosure accept hot-swap input power control modules. Modules plug into computer backplane from rear of computer chassis. Both AC and DC modules provide 800 W of cross-feed redundant input power required by system power supplies. Power supplies will, in turn provide 600 W of N+1 redundant system power. Units are IEEE 1101.10/11 compliant and have automatic over- and under-voltage protection.
---
Original Press Release:
I-Bus/Phoenix Launches Integrated Dual AC/DC Input Modules

- Compact 3U x 80mm, Hot-Swap Power Input

- Automatic Over and Under Voltage Protection

- Output Voltage Regulation to ±1%

- IEEE 1101.10/11 compliant

- Surge Suppressor and Supplemental Electrical Noise Filtering

- Cross Feed Power Redundancy

- "Next-Level" Serviceability

San Diego, CA - I-Bus/Phoenix announces the launch of the industry's smallest hot-swap dual AC and dual DC power modules to be used in IEEE 1101.10/11 compliant systems, which introduce a level of serviceability never before realized in high availability platform solutions. The hot-swappable power input modules provide a level of system availability previously unheard of in the market, allowing tolerance for power feed faults that, in the past, meant sure down-time for mission critical application platforms. These industry leading power input modules provide dual sourced power to the most critical OEM high-availability applications. The first enclosures available from I-Bus/Phoenix that support this latest revolution in cross feed redundant power input are the current industry technological leaders, the C08xx 8U enclosure systems. The availability of the IBP C0818D packet switched backplane enclosure and the C0814D high density enclosure, already equipped with leading reliability, maintainability and serviceability features, are further enhanced when powered
by two independent power sources.

The utilization of these two power sources is controlled by the Input Power Control modules for AC or DC power, which plug into the computer backplane from the rear of the computer chassis. These modules plug directly into the backplane power distribution
motherboard and require no interconnection wiring.

The AC modules provide the 800 watts of cross feed redundant input power required by the system power supplies. The power supplies will, in turn, provide 600 watts of N+1 redundant system power. For protection, the control modules limit the input voltage seen by system power supplies to a range slightly more narrow than their specified input operating range. This assures that when AC power anomalies occur, transfers to and
from preferred power to secondary power take place within the operating range of system power supplies.

As with the AC input modules, the Dual DC input modules plug into the computer backplane at the left rear of the computer chassis. The physical location of the modules determines which one is the preferred input - the module that is plugged into slot A will become the preferred input, the module plugged into slot B becomes the secondary power input. Switching between the two modules happens in a maximum of 100 microseconds, much faster than the system power supplies can detect, (which is typically greater than 5 times that period).

The DC modules supply the 800 watts of cross feed redundant input power that the power supplies need to provide 600 watts of computer power, and thereby meet the N+1 redundant requirement. To insure that a power transfer occurs within the operating range
of the power supplies, the input voltage range of the DC modules will need to be less than the 36 to 72V range of the power supplies.

"I-Bus/Phoenix continues its leadership in enabling advanced computing reliability through the use of our in-house power expertise," said Gary Jasinski, IBP's Global Power Products Marketing Manager. "The advanced power conditioning technology
and smooth fail over inherent in the dual power modules can add several hundred to several thousand hours to the life of the system power supplies, not to mention the previously unheard of level of power feed fault tolerance and overall system availability this product provides."

These modules are to be available in June 2002 as options to the I-Bus/Phoenix C0814D and C0818D line of 8U CompactPCI enclosures. The nFUZION-8U line of high availability cPCI system platforms will offer these options as well. General availability is scheduled for September 2002. Each of the modules will be priced at $295 in OEM quantities.

For more information, please visit our newly re-designed company web site at www.ibus.com or e-mail us at info@ibus.com.

I-Bus/Phoenix is an ISO-9001 quality-certified world leader in the design, manufacture and support of high performance, industrial-grade power and computer systems. In addition, I-Bus/Phoenix offers customized, partner-oriented services focused on meeting the needs of OEMs including purchasing collaboration, stable supply-chain management, configuration control, and complete system integration and test services. With our "Best
of Breed" partners program, we offer complete application ready solutions utilizing technologies developed both in-house and by third party industry leaders, delivered in a collaborative environment to provide the OEM customer a level of global support that ensures success, allowing OEMs to focus on their core competencies, rather than on managing a diverse set of independent vendors.

For further information contact:

Denise Serrano

I-Bus/Phoenix

8888 Balboa Avenue

San Diego, CA 92123

Tel: +1 (858) 503-3077

Fax: +1 (858) 503-3005

Email: dserrano@ibus.com

United Kingdom: Cathy Clark, I-Bus/Phoenix,

Tel: +44 (0) 1243 756441 Email: sales@ibus.co.uk

France: Catherine Kervarec, I-Bus/Phoenix,

Tel: +33 (0) 493 004360 Email: ventes.fr@ibus.com

Germany: Ulrich Diehl, I-Bus/Phoenix,

Tel: +49 (0) 814 246790 Email: verkauf@ibus.com