Power Mini-LEDs target automotive applications.
Press Release Summary: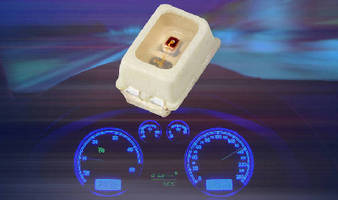 Utilizing advanced AllnGaP technology, VLMx234 Series delivers max luminous intensity of 4,900 mcd. Units provide junction-to-ambient thermal resistance of 325 k/W and power dissipation up to 200 mW, which enables drive currents up to 70 mA. Offered in 2.3 x 1.3 x 1.4 mm SMD package in super red, red, amber, and yellow, AEC-Q101-qualified LEDs are suited for interior/exterior lighting, dashboard illumination, A/V equipment backlighting, and illuminated advertising.
---
Original Press Release:

Vishay Intertechnology's New Power MiniLEDs Handle Drive Currents to 70 mA and Deliver Luminous Intensity to 4900 mcd



Offered in Compact 2.3 mm by 1.3 mm by 1.4 mm SMD Packages, Devices Feature Improved Thermal Performance of 325 K/W



MALVERN, Pa. — Vishay Intertechnology, Inc. (NYSE: VSH) today announced the release of a new series of power MiniLEDs in ultra-compact 2.3 mm by 1.3 mm by 1.4 SMD packages. Utilizing the latest advanced AllnGaP technology, the Vishay Semiconductors VLMx234.. series provides exceptional brightness with a typical luminous intensity of 3500 mcd and maximum luminous intensity of 4900 mcd at 70 mA while delivering improved thermal performance compared to previous-generation LEDs.



The high-intensity LEDs released today provide low thermal resistance junction/ambient of 325 K/W and power dissipation up to 200 mW, which in turn enables high drive currents up to 70 mA. The devices' small size and high luminous intensity make them ideal for automotive applications. Offered in super red, red, amber, and yellow, the AEC-Q101-qualified LEDs are ideal for interior and exterior lighting, dashboard illumination, indicators and backlighting for A/V and industrial equipment, LCD switches and symbols, illuminated advertising, and more.



VLMx234.. devices feature a ± 60° angle of half-intensity and a luminous intensity ratio per packing unit of less than 1.6, and are categorized, per packing unit, for luminous intensity and color. Available in 8 mm tape, the LEDs are compatible with IR-reflow soldering processes and preconditioning according to JEDEC Level 2a, and offer an ESD-withstand voltage up to 2 kV according to JESD22-A114-B. The devices are RoHS-compliant, halogen-free, and Vishay Green.



Device Specification Table:







Part #



Color



Luminous
intensity
range (mcd)



@ IF (mA)
 



Wavelength
(nm)
 



Forward voltage max. (V)
 



@ IF (mA)
 





VLMS234..



Super red



900 to 2240



50



630 typ.



2.8



50





VLMR234..



Red



1400 to 3550



50



625 typ.



2.8



50





VLMK234..



Amber



1400 to 3550



50



616 typ.



2.8



50





VLMY234..



Yellow



1400 to 3550



50



589 typ.



2.8



50







Samples and production quantities of the new LEDs are available now, with lead times of six weeks for larger orders. Pricing for U.S. delivery starts at $0.065 per piece.



Vishay Intertechnology, Inc., a Fortune 1000 Company listed on the NYSE (VSH), is one of the world's largest manufacturers of discrete semiconductors (diodes, MOSFETs, and infrared optoelectronics) and passive electronic components (resistors, inductors, and capacitors). These components are used in virtually all types of electronic devices and equipment, in the industrial, computing, automotive, consumer, telecommunications, military, aerospace, power supplies, and medical markets. Vishay's product innovations, successful acquisition strategy, and "one-stop shop" service have made it a global industry leader. Vishay can be found on the Internet at www.vishay.com.



http://twitter.com/vishayindust

http://www.facebook.com/VishayIntertechnology

More from Electrical Equipment & Systems