Power Line Common Mode Choke Coils serve automotive applications.
Press Release Summary: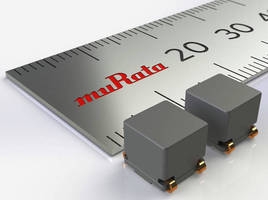 Capable of handling currents up to 5.6 A and operating temperature from -55 to +150°C, PLT5BPH Series AEC-Q200-compliant, wire wound-type, common mode choke coil targets automotive power line noise suppression. Case measures 5.0 x 5.0 mm, and common mode impedance ratings reach up to 500 Ω at 10 MHz. Due to benefits delivered to power line, this series is also suited for base station and set-top box applications.
---
Original Press Release:

Miniaturized Power Line Common Mode Choke Coils Designed for Automotive Applications; PLT5BPH Series Developed for Harsh Operating Environments



Smyrna, GA – Murata Americas today announced the release of the PLT5BPH Series of common mode choke coils for automotive noise suppression applications.  In recent years, designers have placed a great deal of importance on improving efficiency and the ability to withstand severe environments. To achieve more precise control, many manufacturers are positioning electronic components closer to the engine or transmission in denser circuits.  Murata developed this wire wound-type common mode choke coil for power line noise suppression capable of handling large currents (up to 5.6A) and wide operating temperature range (-55°C to 150°C) to meet this demand.



In addition to achieving high performance levels, the PLT5BPH Series is available in a small case size, measuring just 5.0 x 5.0mm (2020 in).  Furthermore, with common mode impedance up to 500Ω (at 10MHz), substantial common mode, as well as normal mode noise suppression, can be expected. The PLT5BPH Series is also AEC-Q200 compliant.



"With an increased number of mechanical and electrical components in an already limited mounting area, temperature and footprint management are very real challenges that can potentially lead to noise concerns. Murata's new series delivers a compact, high temperature rated solution to some of the most pressing performance issues that automotive design engineers face," said Peter Tiller, General Manager, Component Group, Murata Americas.



Because of the benefits delivered to the power line, the PLT5BPH Series is also well suited for base station and set-top box applications.  Samples are available through Murata authorized distributors.



More information can be found at www.murata.com.



About Murata

Murata Manufacturing Co., Ltd. is a worldwide leader in the design, manufacture and sale of ceramic-based passive electronic components and solutions, communication modules and power supply modules. Murata is committed to the development of advanced electronic materials and leading edge, multi-functional, high-density modules. The company has employees and manufacturing facilities throughout the world. For more information, visit Murata's website at www.murata.com.



Amy Talley

Jefferson Communications

atalley@jeffersoncomm.com

T: 703.323.8939

C: 703.395.5143

www.jeffersoncomm.com