Power Lift Stacker suits light-duty applications.
Press Release Summary: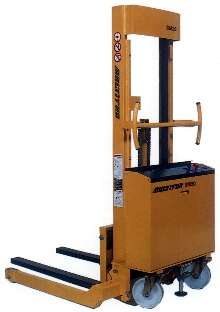 Model SM15/20 is available with 1 mast for 62 in. lift or telescopic mast for lifts up to 130 in. Walk behind stacker provides hydraulic lifting/lowering via pressure pump with 1.5 kW motor. Offerings include built-in 10 A automatic battery charger, floor locking foot brake, and adjustable straddle legs and forks. Measuring 67½ in. long, unit has maximum load capacity of 1,500 and 2,000 lb for SM15 and SM20, respectively.
---
Original Press Release:
Remodeled Power Lift Stacker Provides Higher Maneuverability in Light-Duty Material Handling Applications
Model SM15/20, a remodeled power lift stacker for light-duty material handling applications, is available from Multiton MIC Corporation, Richmond, Va. The low-cost SM15/20 walk behind stacker for low volume distribution centers is ideally suited for light-duty applications that require power lift but not power drive. Successful applications have been found in: plant warehouses, processing facilities and assembly lines, among others. The SM15/20 stacker is available with either a single mast for 62-inch lift, or a telescopic mast for lifts up to 130 inches. The stacker's standard features include: hydraulic lifting/lowering using a high pressure pump with 1.5 kW motor; a built-in 10 amp automatic battery charger; a floor locking foot brake, and adjustable straddle legs and forks. Stacker Details The 67-1/2 inch long SM15/20 has two 8-inch diameter, 2-inch wide nylon swivel casters that provide maximum steering maneuverability. Stacker loads are supported by the rear-mounted casters and two 4-inch diameter, 1-3/4-inch wide load wheels mounted at the end of the straddle legs. Maximum load capacity is 1500 pounds for the SM15 and 2000 pounds for the SM20 with a load center of 24 inches. All electric and hydraulic components are easily accessible for maintenance. Optional accessories include remote control and a snap on platform. For more information on the Model SM15/20 Power Lift Stacker, contact Multiton MIC Corporation, 5701 Eastport Boulevard, Richmond, VA 23231, phone 804-737-7400, fax 804-737-9050, www.multiton.com.