Power Filters are offered in DIN rail-mount versions.
Press Release Summary: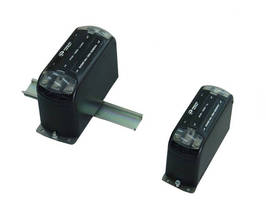 DTRF family of 3-phase filters without neutral are available for currents of 20, 30, and 50 A. Terminal system ensures fast and reliable electrical connection, while plastic housings and lack of internal resins make filters lightweight. Typical applications include electro-medical equipment, frequency inverters, servo drives, and switching power supplies. Filters are designed according to UL1283 and EN60939 regulations.
---
Original Press Release:

Compact Low-Leakage Filters Enables Assembly on DIN Rail



HIGH QUALITY INDUCTIVE COMPONENTS

Key points:

o Easy installation, available to assembly on DIN rail.

o Very low leakage current.

o Three-phase without neutral working range up to 50 A.

o More compact and light design.

With this new filter family; PREMO offers to its customers a high performance design very easy to install and in the smallest size. These characteristics make them the best choice for many applications.

Three-phase series filters of one stage without neutral, for currents of 20, 30 and 50 A are available to assembly also on DIN rail. The terminal system guarantees a fast, easy and reliable electrical connection. Their plastic housings and the lack of internal resins make they were one of the lighter filters of the market.

Due to these filters' wide variety of advantages, they are recommend for many applications, specially, those that requires a low leakage current: automation machinery, applications with very restrictive space requirements, electro-medical equipments, frequency inverters and servo drives (with short length cables) and switching power supplies.

The DTRF family filters have been designed according to UL1283 and EN60939 regulations.

PREMO EMC is located in Barcelona, designs and manufactures EMC filters to help ensure compliance of European and international relevant standards on emissions and immunity, and also to improve the reliability of electronic and electric equipments.

For further information you can always contact:

Communication Department: Rocío Arrupe

Rocio.arrupe@grupopremo.com

PREMO Headquarter

Premo C/. Conchita Supervía

13 - 08028 Barcelona (Spain)

www.grupopremo.com

info@grupopremo.com

Phone number: 34 934 098 980

Fax: +34 934 906 682

More from Electronic Components & Devices