Power Filter features built-in TVSS technology.
Press Release Summary: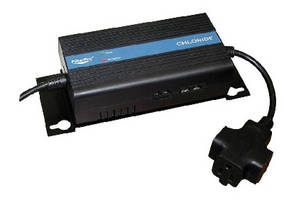 Designed to safeguard digital signage networks, retail POS terminals, and other loads up to 7 A at point of use, FilterPro(TM) features TVSS to prevent voltage transients from passing through delicate electronic circuitry. Transient Voltage Surge Suppressor delivers UVR performances less than or equal to 330 V, while filtering minimizes final let-through voltage to 20 V or less. With triple receptacle cruciform output connector, mix of line cords and plug-in transformers can be supported.
---
Original Press Release:

Chloride FilterPro(TM) with TVSS Provides Simple Power Protection



-- Single unit safeguards phone, data and power lines --

LIBERTYVILLE, IL, - With the introduction of the FilterPro(TM) power filter, Chloride North America is raising the bar for affordable power protection. Designed to safeguard digital signage networks, retail POS terminals, office copiers, large monitors, and other loads up to 7 amps at the point of use, the FilterPro achieves power-filtering levels comparable to transformer-based products, plus offers advanced surge protection with built-in transient voltage surge suppression (TVSS) technology.

"In today's economy, the new FilterPro is a very smart investment. As electrical equipment gets smaller and more expensive, it becomes more important to ensure you get the most out of your purchases. Adding the FilterPro will ensure your sensitive electronics are protected," explained Yolanda Hernandez, Director of Marketing, Chloride North America. "The FilterPro provides surge protection, noise filtering, and power management in a more compact design ideal for space constrained environments. It is excellent as stand-alone protection or it can be combined with a UPS for a power protection solution."

Unlike other power filters in its price class, the FilterPro features TVSS to prevent voltage transients from passing through to delicate electronic circuitry. FilterPro's TVSS system delivers UVR performance less than or equal to 330 V, the best protection level defined by UL 1449, while its high performance filtering reduces final let-through voltage to 20 volts or less (line-neutral and neutral to ground, based on the ANSI/IEEE C62-41 ringwave).

As a result of the FilterPro's triple receptacle cruciform output connector, a mix of standard line cords and plug-in transformers can be supported without interfering with each other. Power, phone (POTS, ADSL), and data (10/100/1000BaseT Ethernet ) lines are all protected by the versatile FilterPro.

The FilterPro comes with a wall mount bracket and is backed by the company's 7 x 24 x 365 live body technical support.

For more information, please call 847 990-3623. Or visit the FilterPro page on Chloride's website: http://www.chloridepower.com/usa.

About Chloride

Headquartered in London, Chloride Group PLC is an international electronics manufacturer operating primarily in the power protection and safety system markets. Chloride North America manufactures and supplies a range of UPS, power conditioning and line protector products for critical applications primarily in the rapidly growing areas of data communications, retail, biomedical systems and industrial process controls.

Chloride

Dana Capaccio

847-990-3625

Dana.Capaccio@chloridepower.com