Power Entry Module offers built-in RFI filter.
Press Release Summary: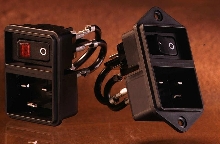 EC Series combines integrated on/off switch and ac receptacle built to IEC/EN 60320-1/C20 specs. Recessed, 2-pole switch protects against accidental actuation. In-rush rating is 100 A for 5-6 msec. Module is UL and CSA approved for up to 20 A at 125 and 250 V, and VDE approved for up to 16 A at 250 V. Type EC12 filtered version meets standard and medical grade attenuation requirements. Filter ratings range from 12, 16 & 20 Amps at 250 Volts.
---
Original Press Release:
Power Entry Module Adds to 20A Range

Series Combining AC Inlet, RFI Filter and On/Off Switch Rated 20 Amps

Schurter's new EC series power entry module is the most recent offering in the company's growing range of high-current integrated solutions. While only slightly larger than similar 10 Amp rated products on the market, the module packs in a significantly higher power rating of 20 Amps. Like all power entry products, integrating primary power functions can save valuable panel space and assembly time by consolidating the number of cutouts and eliminating the need for manual wiring between parts.

The EC unit is fully molded and is comprised of an integrated on/off switch and AC receptacle built to IEC/EN 60320-1/C20. The I/O switch is slim, 2-pole, and pre-wired to the inlet. It is recessed in the housing to protect against accidental actuation. Its in-rush rating is 100 Amps for 5-6ms. Available options include lighted switches in red or green, and alternative I/O orientations. The filtered version of the product, type EC12, meets standard and medical grade (<5microA leakage) attenuation requirements. Filter ratings range from 12, 16 & 20 Amps at 250 Volts.

The EC series accepts standard detachable power cords and rewireable connector mates up to 20 Amps at 250 Volts. An optional retaining clamp accessory prevents disconnection of the cord from the receptacle. The series is UL & CSA approved up to 20 Amps at 125 and 250 Volts, and VDE approved up to 16 Amps at 250 Volts. The EC12 (filtered version) is pending approval with UL & CSA. Applications include higher power consuming equipment, like CAD systems, office automation equipment, industrial workstations, servers, base stations, bar coding equipment, and power supplies. The EC11 meets the 1U enclosure requirements for rack mounted servers and peripherals.

Pricing for the EC11 (without filters) starts at under $8.00 for 100 piece quantities. Delivery is 6-8 weeks.

Contact: Lorene Manjare

Phone 1-800-848-2000
Fax 707-636-3033

E-mail info@schurterinc.com
Website www.schurter.com
More from Electrical Equipment & Systems