Power Entry Module can be used in Protection Class II equipment.
Press Release Summary: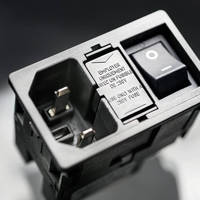 Designed according to IEC 60320-1 (style C18), Class II KMF supplied without ground pin and suitable for medical equipment used in residences. Double insulation between energized components and exposed parts is tested with 4,000 Vdc. Available with 2-pole line switch and 1- or 2-pole fuse holder, module supports current ratings from 1–10 A at 250 Vac and features 4.8 x 0.8 mm quick-connect terminals. EMC filter is available in medical and low-leakage, M5 versions.
---
Original Press Release:

Compact Power Entry Module for Protection Class II Equipment - KMF Series



Santa Rosa, California – SCHURTER expands its wide range of power entry modules to include a new version, without ground pin, for use in Protection Class II double-insulated applications. The KMF power entry module is already very popular for use in Protection Class I equipment, due to its high functionality in a compact package. The new Protection Class II version is perfectly suited for medical equipment used at home where the medical standard prescribes the use of Protection Class II design.



The new KMF Class II version is according to IEC 60320-1, style C18. It is particularly well suited for use in medical equipment according to the IEC standard 60601-1-11, which outlines additional safety measures specific to medical equipment intended for use in the home. There is increasing demand for such equipment as populations around the world age and healthcare costs continue to rise.



Protection Class II equipment, in contrast to Protection Class I equipment, generally has no metal case. This category of equipment is called double insulated, and requires higher safety levels for energized components relative to exposed surfaces. The KMF Class II power entry module provides double insulation between energized components and exposed parts. This reinforced insulation is tested with a voltage of 4000 VDC between the energized conductor (L) and the neutral conductor (N) relative to the mounting panel.



The KMF line switch is available with a 2-pole line switch and a 1- or 2-pole fuse holder. For medical applications an "extra-safe" fuse holder is available that can only be opened with the aid of a tool. The EMC filter is available in medical and low leakage, M5, versions. This integrated filter at the power input provides highly effective interference suppression, which results in optimized electromagnetic compatibility. Current ratings range from 1-10 A at 250 VAC. The KMF offers quick-connect terminals of 4.8 x 0.8mm. Mating V-Lock cord sets are available to safeguard against unintentional disconnection of the power.



The KMF Class I and Class II are ENEC, cURus and CCC approved. They are suited for use in equipment according to IEC 60950, IEC 60601-1, in addition to IEC 60601-1-11.



Pricing starts at $20.96 each per 100 pieces. Packaging is 20 pieces per box. Data sheet and additional information are available at: medical-technology.schurter.com. For sales and product information, contact Cora Umlauf at (800) 848-2600 or by email at info@schurterinc.com.



About SCHURTER Inc.

SCHURTER is a progressive innovator and manufacturer of Circuit Protection, Connectors, Switches, and EMC Products to the electronic and electrical industries worldwide. SCHURTER's three divisions: Components, Input Systems and Electronic Manufacturing services are formed to provide customer specific products and services, which focus on clean and safe supply of power and making equipment easier to use. These core competencies bring a high degree of innovation to SCHURTER's main markets IT / Telecom, Medical, Space and Renewable Energy.



SCHURTER meets its customers' highest demands through certified quality, environmental and safety management systems including ISO 9001, ISO 14001, OHSAS 18001 and highly developed processes (Six Sigma method). Excellent services are upheld through the consistent application of an all encompassing quality management system.



SCHURTER Inc., Santa Rosa, California is the exclusive North America sales and distribution office for the SCHURTER Group.



SCHURTER INC.

447 Aviation Boulevard

Santa Rosa, CA 95403

Telephone 707 636 3000

Facsimile 707 636 3033

www.schurterinc.com

More from Controls & Controllers