Power Drawer Connector suits applications up to 1,000 V.
Press Release Summary: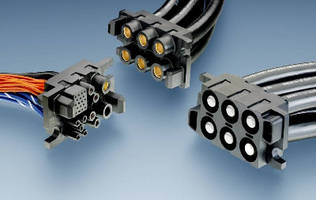 With scalable mold platform, FORGE Blind-Mateable Connector allows users to specify number of modules on housing as well as size and location of contacts. Housing can be designed in 2-row, 1-5 column configurations for max of 10 modules and current carrying capacity over 1,000 A. Contacts are touch-safe and available in 5 sizes with current ratings from 3-250 A per contact. Contact sequencing helps to control power arcing during mating and unmating.
---
Original Press Release:
TE Connectivity Launches New Customizable Forge Power Drawer Connector for High-Voltage Applications up to 1000v
--New Blind-Mateable, Touch-Safe Connector Offers Low Mating Force-- HARRISBURG, Pa. - TE Connectivity today launched the new FORGE power drawer connector for high-current and high-voltage power supplies and power distribution systems. This blind-mateable connector, produced from a scalable mold platform, allows users to specify the connector configuration that best meets their design requirements. With a voltage rating of up to 1000V AC or DC, coupled with a robust design, the product is well suited for high-efficiency power conversion applications and high-reliability power systems used in rugged environments. Target applications include power inverters, servers, switches and routers used in data centers, alternative energy power conversion, and military and aerospace products. With a scalable mold platform, the FORGE power drawer connector allows users to specify the number of modules on its housing as well as the size and location of its contacts. Housings can be designed in two-row, one-to-five column configurations for a maximum of 10 modules and a current carrying capacity of over 1000 Amps (dependent on configuration). This customizability allows TE to quickly deliver a power connector to help shorten design time and save design space. An added benefit of the FORGE power drawer connector is its use of POWER ARCH contacts - highly conductive contacts, also manufactured by TE, which allow for a much lower mating force than drawer contacts currently offered in the market. This low mating force enables easy mating for a secure connection and helps to reduce potential damage during mating/unmating cycles. Contacts are touch-safe and available in five different sizes with current ratings from 3 Amps to 250 Amps per contact. Additionally, the product offers three mating sequences for use in hot-plug applications. The contact sequencing helps to control power arcing during mating and unmating. Visit www.te.com/products/FORGEdrawerGO or contact the Product Information Center at 1-800-522-6752 for more information. About TE Connectivity
TE Connectivity is a global, $14 billion company that designs and manufactures approximately 500,000 products that connect and protect the flow of power and data inside the products that touch every aspect of our lives. Our nearly 100,000 employees partner with customers in virtually every industry-from consumer electronics, energy and healthcare, to automotive, aerospace and communication networks-enabling smarter, faster, better technologies to connect products to possibilities. More information on TE Connectivity can be found at http://www.te.com. FORGE, POWER ARCH, TE Connectivity, TE connectivity (logo) and TE (logo) are trademarks. Other logos, product and/or Company names might be trademarks of their respective owners.
More from Electrical Equipment & Systems