Power Distribution Unit features current monitoring.
Press Release Summary: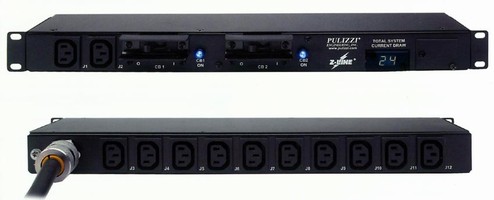 Configured for 208 V 30 A power input, T982F3 Series rack mount power distribution unit (PDU) can power up to 12 devices with output delivered via IEC 60320 type C13 receptacles. Current meter continuously measures total current draw of all connected devices, preventing system overload. With circuit breaker protection and surge suppression, 19 x 7 x 1.75 in. PDU includes detachable mounting brackets for front, recess, center, or rear mount.
---
Original Press Release:

Pulizzi Announces 208 Volt 30 AMP Current Metered Power Distribution Series



Santa Ana, CA- Puhzzi Engineering, Inc. announces the release of the new T982F3 Series rack mount power distribution unit (PDU) with current monitoring. This new series is configured for 208 volt 30 amp power input, making it ideal for today's power hungry applications. Using a 208 volt input is recognized as a more efficient way to distribute power in a data center or in high density electronic enclosures. When operating equipment at 208 volt versus 120 volt, it decreases current draw by up to 50%, allowing for greater equipment density. The PDU can power up to (12) devices with power output delivered via industry standard IEC 60320 type C13 receptacles. This receptacle type is often referred to as "computer type" or "high voltage". The front panel of the T982 has an ultra-bright two-digit current meter display that can be read from up to 20 feet away. The current meter allows for greater equipment density by continuously measuring the total current draw of all connected devices. This prevents system overload problems and makes load monitoring easy.

The T982F3 is part of a Pulizzi "Design Your Own" part number series. This innovative part numbering system allows the user to configure and purchase only the options they need. Configurable options include power cable length, power filtering and current metering. Power filtering protects sensitive electronics from damage caused by electrical noise. This is very crucial because radiated and conducted electrical noise is a major cause of data loss and microprocessor/memory failure. The 19" rack mount PDU is 1U (1.75") high and 7" deep. The rugged construction is all steel with a black finish. The unit features detachable mounting brackets that allow for front, recess, center or rear mount. The T982F3 can be fit with an optional cable restraint and management system, part number KIT-CABLRES-03. This optional kit utilizes standard cable ties to secure the cable and plug in place, preventing accidental disconnects. Both circuit breaker protection and surge suppression are included as standard features which prevents damage due to short circuit currents and over voltage. The circuit breakers meet UL branch circuit breaker requirements for UL 60950 ITE Listing. Circuit breakers are more reliable and more easily reset when compared to less expensive internal fuse based products. The T982F3 ranges in price from $386.00 to $595.00 depending on options, with OEM quantity discounts available.

Pulizzi Engineering, Inc. is a worldwide leader of AC Power Distribution, AC Power Sequencing, Redundant Power, and Remote-Reboot Power Management Systems. Pulizzi Engineering, Inc. is ISO 9001:2000 certified with products engineered and manufactured in the United States of America. All products are designed to meet UL/cUL 60950-1, TUV EN 60950-1 safety specifications as well as the CE Mark for the Low Voltage and Emissions Directives where applicable. Standard off-the-shelf, modified and custom systems are available to meet client specifications. Standard products can be ordered online 24 hours a day, 7 days a week. You can contact Pulizzi Engineering, Inc. at 800-870-2248 (US/Canada) or 605-334-8999, fax: 605-334-4999, browse their web site at: WAVw.pulizzi.com, or contact via e-mail at: sales@pulizzi.com.

Electronic photo and text media is located at pulizzi.com/press