Power Distribution Module offers primary or auxiliary power.
Press Release Summary: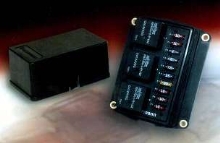 Series 15300 Rear Terminal Mini-Fuse and Relay features uniform component terminal spacing, which accepts standard 2.8 mm wide terminal blades for all component connections. Connector points are arranged to accept standard components, including mini fuses, mini circuit breakers, diodes, flashers, and mini or micro relays. Offering component density up to 20 devices, sealed and weather tight unit can be panel- or surface-mounted.
---
Original Press Release:

Cooper Bussmann Automotive Products Announces New Rear Terminal Mini-Fuse & Relay Power Distribution Module


Bussmann Automotive Products, a division of Cooper Industries, Wood Dale, Illinois, now has available is Series 15300 Power Distribution Module - the Rear Terminal Mini-Fuse & Relay (RTMR). The RTMR has a compact design that offers high component density and is versatile as either a primary or auxiliary power distribution unit. Built to survive in demanding environments, the RTMR is sealed and weather tight, suited for applications experiencing moisture and vibration.

Uniform component terminal spacing accepts standard 2.8mm wide terminal blades for all component connections. Connector points are arranged to accept standard components, including mini fuses, mini circuit breakers, diodes, flashers and/or mini or micro relays. The RTMR is offered in three configurations: 1) All fuses, 2) Fuses and mini (larger) Relays, 3) Fuses and Micro (smaller) Relays.

With component density up to 20 devices, the compact RTMR is an economical, ideal product for distributed power applications. Engineered to help reduce wiring expense, the RTMR can be either panel mounted or surface mounted, and uses the industry standard Series 280 Packard Metri-Pack(TM) 2.8mm. to connect to output wire. Initially designed for the marine and specialty vehicle manufacturers, it is also well suited for other transportation industry applications including: construction, agriculture, trucking and automotive.

Cooper Bussmann, a division of Cooper Industries, manufactures and markets circuit protection products for the electrical, electronic and automotive industries, domestically and internationally. Headquartered in St. Louis, Mo., Bussmann has manufacturing facilities in three domestic and eight international locations and approximately 3,000 team members worldwide. Cooper Industries, Ltd., with 2003 revenues of $4.1 billion, is a global manufacturer of electrical products and tools and hardware. Incorporated in Bermuda, with administrative headquarters in Houston, TX, Cooper has more than 27,000 employees serving more than 100 locations around the world and sells products to customers in more than 50 countries. For more information, visit www.cooperindustries.com

For more information about the Series 15300 RTMR, contact:
Mr. Chris Osmun, Director of Sales and Marketing
Cooper Bussmann, Automotive Products
175 Hansen Court
Wood Dale, Illinois 60191
Phone: 630-422-2400
Fax: 630-422-2466
Toll Free Voice: 1-800-227-8732
Toll Free Fax: 1-800-832-9873
E-mail: info@busscc.com
Website: www.busscc.com

More from Chemicals & Gases