Power Factor Correction (PFC) Equipment
Power Correction System uses active harmonic filtering.
Press Release Summary: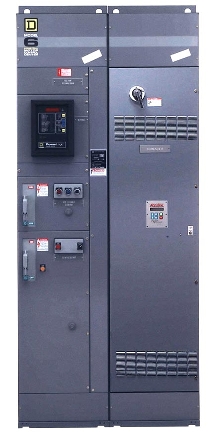 MCC-mounted ACCUSINE(R) Power Correction System (PCS), with expandable, scalable filter, quickly reacts to harmonic waveforms to produce harmonic cancellation waveforms. System decreases harmonic-related overheating of cables, switchgears, and transformers. Response to load fluctuations begins in 40 microseconds, with 8 milliseconds for full response to step load changes. Device filters to 50th harmonic.
---
Original Press Release:

ACCUSINE® POWER CORRECTION SYSTEM FROM SQUARE D USES ACTIVE HARMONIC FILTERING FOR INCREASED RELIABILITY


PALATINE, III. - March 7, 2002 - Costly power quality problems caused by recent influx of harmonic-producing devices can be combated with a new power correction system from Square D/Schneider Electric. The SQUARE D® ACCUSINE® Power Correction System (PCS) increases uptime and system reliability, and reduces maintenance costs, problematic harmonic levels, voltage fluctuations and visible flickering.

"Motor control systems and electrical power systems are incorporating more and more solid state components, such as VFDs and soft starts," said Hal Theobald, product marketing specialist at Square D/Schneider Electric. "This increases the potential for harmonic power quality problems, which this device helps correct."

Now available for Model 6 Motor Control Centers, as well as standalone applications, the ACCUSINE PCS eliminates poor power quality by using active harmonic filtering. When applied to harmonic loads, such as drives, the expandable and scalable filter quickly reacts to harmonic waveforms to produce harmonic cancellation waveforms. By canceling these harmonic conditions, the device can keep the motor control center or other electrical systems up and running. The system also decreases harmonic-related overheating of cables, switchgear and transformers. In addition, over-sizing of distribution equipment to compensate for harmonics and poor power factor can be avoided.

Active harmonic filtering can improve electrical network reliability in applications such as semiconductor, industrial process and water/wastewater. The all-in-one system also has resonance prevention, total power factor correction and dynamic VAR compensation to prevent other power quality problems.

ACCUSINE PCS is a flexible solution that can be installed virtually anywhere in an electrical system, including standalone applications that generate harmonics, voltage sags or interference. It can be applied on the main facility distribution bus, sub-distribution bus, a local breaker panel or a single load.

ACCUSINE PCS can filter the entire network or specific loads, depending on the installation point. A parallel connection allows for easy retrofit and installation of multiple units for large networks. Response to load fluctuations begins in 40 microseconds with 8 milliseconds for full response to step load changes. The device filters to the 50th harmonic.

A harmonic study is not required for installation of the ACCUSINE PCS, because the device becomes a lower impedance path for harmonics than the existing power supply. Unlike passive devices, ACCUSINE PCS is easy to apply and cannot be overloaded. The MCC-mounted device is IEEE 519 standard compliant, UL and cUL approved, temperature and short circuit tested to MCC standards. The MCC packaging provides a central connection point, eliminating the high costs involved with mounting and wiring individual load reactors to existing loads. ACCUSINE PCS in the Model 6 MCC reduces installation costs and provides single vendor ordering and responsibility.

For more information about the ACCUSINE PCS or the complete line of motor control and power quality products from Square D, call Square D at 1-800-392-8781. Or, visit the Square D web site at www.SquareD.com or e-mail [email protected].

SQUARE D is a market-leading brand of electrical distribution, industrial control and automation products, systems and services, and is the flagship brand in the U.S. for the North American Division of Schneider Electric. SQUARE D products are found in all types of residential, commercial and industrial construction, in a wide range of manufacturing and processing facilities, and in or on the products of other manufacturers. Schneider Electric, headquartered in Paris, France, is a global electrical industry leader with 2001 sales of approximately $8.7 billion.

This release is submitted for consideration in both print and Web publications.