Power controllers reduce panel space.
Press Release Summary: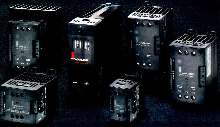 DIN-A-MITE® compact power controllers provide SCR control, heatsink, wiring, and touch-safe exterior. Controllers offer switching capabilities from 16-100 A and voltages from 24-600 V in 4 packages. Units feature DIN rail or sub-panel mounting, MDR replacement screen to eliminate mercury problems, and tighter-fitting cover on integrated ground-leg wire packages to ease wiring. All 4 models match load requirements with 1-phase, 3-phase/2-leg, and 3-phase/3-leg switching.
---
Original Press Release:

Watlow's Updated DIN-A-MITE® Power Controllers Offer Exceptional Performance in a Compact Package


St. Louis - Watlow's updated DIN-A-MITE® family of compact power controllers now provides SCR control, heatsink, wiring and a touch-safe exterior in one complete package. These new controllers boast higher output current, simplified packaging and
improved wiring capabilities.

Available in 4 different packages and handling configurations, the new DIN-A-MITE controllers offer significantly boosted current output rating in the A, B and C models with switching capabilities from 16 to 100 amps and voltages from 24 to 600 V.

In addition, a tighter-fitting cover on the integrated ground-leg wire packages simplifies wiring.

Watlow has updated the DIN-A-MITE controller family to bring the line even more versatility and usability. Features of the improved DIN-A-MITE line include convenient DIN rail or sub-panel mounting capabilities to reduce panel space and lower costs, a touch-safe exterior to protect against accidental electric shock and a rugged back-to-back SCR design to ensure versatility and to lower installation costs. A MDR replacement
screen has also been added to eliminate mercury problems and facilitate environmentally friendly replacement.

The DIN-A-MITE family now removes the need to prepare wires for terminals, locate the heat sink for rated amperage and determine adequate terminations. All four DIN-A-MITE models match load requirements with 1-phase, 3-phase/2-leg and 3-phase/3-leg
switching.

Watlow has improved the DIN-A-MITE lead-time for shipping, reducing it to only 1 day.

About Watlow
Since the company's founding in 1922, Watlow has brought its thermal expertise to numerous applications, including semiconductor, plastics processing, foodservice equipment, life sciences, power generation, aerospace and others. Headquartered in St. Louis, Missouri, Watlow is the largest custom designer and manufacturer of industrial heaters, sensors, controllers and software with offices and manufacturing facilities around the world.

For additional information or the name of the nearest Watlow representative:
Watlow
Phone: 1+ (800) 4-WATLOW, 1+ (314) 878-4600
Fax: 1+ (877) 893-1005, 1+ (314) 878-6814
Internet: www.watlow.com
E-mail: info@watlow.com

More from Test & Measurement