Power Controllers are designed for notebook PCs.
Press Release Summary: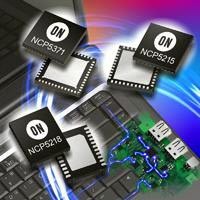 Models NCP5371, NCP5218, and NCP5215 address notebook power subsystem needs for Vcore, DDR memory, and CPU chipsets, respectively. Available in Pb-free QFN-48 package, dual-edge, 2-phase Model NCP5371 features current mode variable frequency architecture. Combining PWM controller for VDDQ supply with VTT linear regulator, Model NCP5218 comes in Pb-free QFN-40 package. Dual channel buck controller Model NCP5215 comes with programmable power-saving mode and 180° interleaved operation.
---
Original Press Release:

ON Semiconductor Further Expands Its Computing Controller Portfolio to Provide Efficient Power Management for Notebooks



New power controllers deliver a compact solution for Vcore, DDR memory and CPU applications that help power supply designers meet global efficiency requirements

PHOENIX, Ariz. - June 5, 2007 - ON Semiconductor (Nasdaq: ONNN), a global supplier of efficient power management solutions, has expanded its computing products portfolio with the introduction of three new power controllers, specifically designed to meet the efficiency requirements of notebook PCs. The NCP5371, NCP5218, and NCP5215 controllers address the notebook power subsystem needs for Vcore, DDR memory, and CPU chipsets respectively.

These devices join the recently introduced NCP5387 and NCP5382 dual-edge Vcore control solutions for desktop PCs and servers that ON Semiconductor designed to enable more efficient and more compact power solutions for computing applications

"During the past 18 months, ON Semiconductor has expanded its computing portfolio and design-wins with 12 new Vcore- and system controllers for desktop motherboard manufacturers, the introduction of Vcore and power controllers for notebooks, and 18 new Trench FETs specifically designed for computing applications," said Bill Schromm, senior vice president and general manager of ON Semiconductor's Computing Products Group. "We now provide a total power solution for a broad range of computing systems.

"In addition to controllers and MOSFETS, ON Semiconductor supplies a full range of the semiconductor components essential to power system design - such as regulators, rectifiers, transistors and diodes," said Schromm. "Our comprehensive product offering, backed by our technical expertise, offers customers the advantage of working with a single supplier to design complete computing power subsystem solutions. Later this year, we plan to introduce additional power controllers and MOSFETs designed to meet our customers' evolving power management needs and to provide them with innovative options for efficient power management designs."

The Devices

Featuring a variety of power-saving features, the new controllers improve the efficiency of power management subsystems in notebook computers by up to 5 percent, thereby extending battery life. The memory and chipset controllers operate with fewer capacitors than existing solutions, enabling physically smaller power management subsystems and leaving more circuit board real estate available for other functions.

The NCP5371 is a 2-phase, dual-edge Vcore controller, specifically designed to support notebook mobile processor power delivery requirements. The current mode variable frequency architecture provides ultra fast dynamic response with virtually no overshoot for dynamic loads and dynamic VID changes. Automatic variable frequency operation during light load conditions provides high subsystem efficiency and fast transient response out of light load operation. The device includes gate drivers that are optimized for large Qg low-side MOSFETs, further improving overall subsystem efficiency. The NCP5371 is available in a Pb-free QFN-48 package, and is priced at $3.33 per unit in 2,500 unit quantities.

The NCP5218 is a 2-in-1 power controller, specifically designed as a total solution for notebook DDR memory subsystems. This device combines the efficiency of a PWM controller for the VDDQ supply, with the simplicity of a linear regulator for the VTT supply. The high bandwidth VTT regulator requires only a 20 microfarad (µF) ceramic output capacitor, versus the 60 µF of capacitance required for existing market solutions, saving board space and cost. A power saving mode for light load conditions improves subsystem efficiency. The inclusion of VDDQ power good voltage monitoring, VDDQ overcurrent, overvoltage, and undervoltage protection, supply undervoltage monitoring, soft−start, and thermal shutdown makes this device a total power solution for high current DDR memory subsystems. The NCP5218 is available in a Pb-free DFN-22 package, and is priced at $1.13 per unit in 2,500 unit quantities.

The NCP5215 is a dual-channel buck controller, specifically designed for notebook chipsets. A programmable power-saving mode delivers high efficiency of greater than 90 percent over the entire load range. The 180° interleaved operation reduces input capacitance requirements, while the programmable Adaptive Voltage Position reduces output capacitance requirements, combining to reduce board space for capacitors by 25 percent versus existing solutions. The NCP5215 is available in a Pb-free QFN-40 package, and is priced at $1.13 per unit in 2,500 unit quantities.

About ON Semiconductor

With its global logistics network and strong portfolio of power semiconductor devices, ON Semiconductor (Nasdaq: ONNN) is a preferred supplier of power solutions to engineers, purchasing professionals, distributors and contract manufacturers in the power supply, computer, consumer, portable/wireless, automotive and industrial markets. For more information, please visit ON Semiconductor's website at www.onsemi.com.

CONTACTS:
Anne Spitza
Marketing Communications
ON Semiconductor
(602) 244-3437
anne.spitza@onsemi.com

More from Optics & Photonics