Power Controller IC is suited for consumer electronics.
Press Release Summary: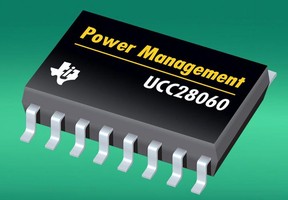 Designed for digital TVs, PCs, and entry-level server platforms, Model UCC28060 2-phase transition-mode power factor correction (PFC) control circuit suits 75-800 W applications. Single-chip, interleaved unit features Natural Interleaving(TM) technology which reduces amount of I/O current ripple, distributes magnetics, and provides light-load phase management. Available in 16-pin SOIC package, it comes with failsafe over-voltage protection circuit.
---
Original Press Release:

TI Introduces Energy-Saving, Single-Chip Power Factor Control for 75- to 800-Watt Consumer Applications



DALLAS (May 21, 2007) - Texas Instruments Incorporated (TI) (NYSE: TXN) introduced today the industry's first single-chip, interleaved, transition-mode power factor correction (PFC) control circuit that helps lower power system cost and save energy in consumer applications, such as digital TVs, personal computers and entry-level server platforms. TI will showcase the controller and other innovative power management technology at the Power Conversion and Intelligent Motion (PCIM) conference in Nuremberg, Germany, May 22-24. See: www.ti.com/UCC28060.

TI's UCC28060 two-phase high-performance controller for 75- to 800-W applications simplifies power system design, minimizes switching losses, and saves system cost and valuable board space when compared to traditional single-phase, transition-mode topologies or continuous-conduction mode (CCM) topologies. In certain customer applications, designers have been able to reduce their overall bill of materials cost by as much as 20 percent, while achieving higher levels of performance in a smaller, thinner and lighter power supply design.

Helping Customers Exceed Energy Star and 80 Plus Requirements

The UCC28060 efficiently meets the world's most stringent power factor requirements for consumer electronic systems. The device features Natural Interleaving(TM) technology, which reduces the amount of input and output current ripple, distributes magnetics to improve thermal management, and provides light-load phase management. The UCC28060's ripple cancellation feature significantly reduces ripple current compared to single-phase or alternative "master-slave" interleaved solutions. In addition, the feature allows a designer to reduce capacitor size by 27 percent, and it gives designers the ability to use a smaller, less expensive electromagnetic interference (EMI) filter.

The PFC controller's light-load phase management enables a power supply to operate at high efficiency over the range of the load, enhancing system performance and aiding OEMs' efforts to achieve 80 Plus and Energy Star® compliance. Phase management allows the user to turn on or off phases of the power supply so that only the phases required to power the load are enabled. The UCC28060 can increase efficiency by up to five percent at light load conditions.

System-Level PFC Protection

Safety is a critical concern of all power system designers, and the UCC28060 offers several unique system control and protection features to improve power system reliability. The UCC28060 incorporates the industry's first "failsafe" over-voltage protection circuit, which provides dual paths of voltage sensing to protect against shorts to an intermediate voltage. If undetected, such shorts could lead to a catastrophic failure on the board. Second, the PFC device provides in-rush current management to prevent MOSFET conduction during in-rush events, while eliminating reverse recovery events in the system output rectifiers. Finally, the UCC28060 employs sensorless current shaping to protect the system from potential damage that may otherwise occur during "brown-out" conditions and recovery.

Available Today

Samples of the UCC28060 are available in a 16-pin SOIC package. It is currently sampling today, with volume production scheduled for June. Suggested resale pricing in quantities of 1,000 units is $1.30. An evaluation board, power factor correction application notes and data sheets are available at power.ti.com.

Digital PFC Adapter Board

TI also will demonstrate at the PCIM Europe conference its Digital PFC Adapter Board, based on the TMS320F280x digital signal controller. This board helps analog and digital power supply designers evaluate and detect power factor correction in power systems that support consumer and industrial applications. The PSFB2808 board is used with TI's F2808 eZdsp Starter Kit and free downloadable C2000 Power Factor Correction Software, and is available through Tier Electronics (www.tierelectronics.com).

About Texas Instruments

Texas Instruments Incorporated provides innovative DSP and analog technologies to meet our customers' real world signal processing requirements. In addition to Semiconductor, the company includes the Education Technology business. TI is headquartered in Dallas, Texas, and has manufacturing, design or sales operations in more than 25 countries.

Texas Instruments is traded on the New York Stock Exchange under the symbol TXN. More information is located on the World Wide Web at: www.ti.com

Please refer all reader inquiries to:
Texas Instruments Incorporated
Semiconductor Group, SC-07093
Literature Response Center
14950 FAA Blvd.
Ft. Worth, TX 76155
1-800-477-8924