Power Clamp Meter troubleshoots electrical systems.
Press Release Summary: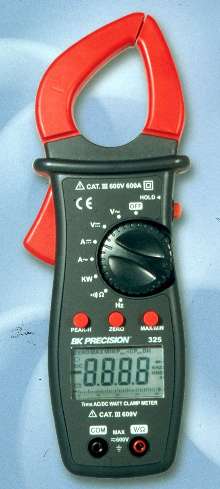 Model 325 True RMS AC/DC Clamp Meter provides non-invasive measurements up to 400 kW, 400 Aac, 600 Vac, and 600 Vdc utilizing pair of standard test leads. It measures up to 4,000 ohms of resistance and 40 ohms of audible continuity. Portable, battery-powered unit includes front-panel 3¾ digit LCD display, max jaw opening of 1.41 in., automatic range selection, over-range and low battery indicators, and automatic power-off after 30 min.
---
Original Press Release:

B + K Precision® Introduces True RMS AC/DC Power Clamp Meter


YORBA LINDA, Calif. March 27, 2004 - B&K Precision Corporation, one of the industry's leading suppliers of test and measurement products, today announced the addition of the new Model 325 True RMS AC/DC Power Clamp Meter to its expanding product line. The lightweight, portable, battery-powered Clamp-On meter measures the most common AC Volts, DC Volts, and AC current needed to troubleshoot residential and small commercial electrical systems. Priced at only $189.00, the ergonomically designed Model 325 AC /DC True RMS Power Clamp exceeds the latest IEC1010-1 standards for safety, and its small size makes the Model 325 ideal for "front-line" system analysis by appliance repair and maintenance, electrical maintenance, HVAC service and industrial maintenance technicians.

The Model 325 provides the user with many useful features including:
o AC +DC Watt to 400KW
o 3-3/4 digit display
o 36mm jaw opening
o 4000 counts
o Auto Power Off

The Model 325 AC/DC True RMS Power Clamp Meter provides safe,
non-invasive measurements of up to 400KW, 400 Amps AC (+/- 2% + 10), and measures up to 600 Volts AC (+/-1%+ 10), and up to 600 Volts DC (+/-1.5% + 10) utilizing the a pair of standard test leads. It provides the ability to measure up to 4000 ohms of resistance (+1/-1%+5) and 40 ohms of audible continuity. The unit's Data Hold feature allows the user to freeze the LCD
display reading. Other features include a front panel 3-3/4 digit LCD display, automatic range selection, over-range and low battery indicators, automatic power off after 30 minutes, and a maximum jaw opening of 1.41 inches (36mm).

The Model 325 utilizes a 9V battery (NEDA 1604 IEC 6F22 JIS 006P) with an expected life of approximately 200 hours. Its compact size (1.69(H) x 2.95(L) x 8.58(D)) and lightweight (13.24 oz including battery) makes the Model 325 ideal for single-handed operation. Priced at $189.00 (qty 1), The Model 325 AC/DC True RMS Power Clamp Meter comes with an instruction manual and carrying case. It is available for immediate delivery.

For over 50 years, B&K Precision Corporation has developed a reputation for excellence in the design and manufacture of high quality, reliable and cost-effective test and measurement products. Recognized for their price-performance value, ease of use, measurement accuracy and application flexibility, B&K
Precision Corporation products are available worldwide through a global network of authorized distributors.

For additional information or the name and location of an authorized distributor near you, contact B&K Precision Corporation, 22820 Savi Ranch Parkway, Yorba Linda, California, 92887, Tel: (714) 921-9095, Fax: (714) 921-6422 or visit our Web site at www.bkprecision.com

More from Communication Systems & Equipment