Power Bus System offers finger-safe connections.
Press Release Summary: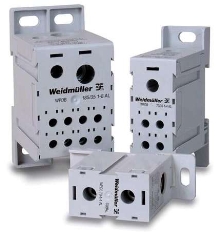 DIN rail mount Power Distribution Blocks, available in 5 sizes, manage various wire widths. Products allow for multi-pole assembly, accommodating single-, 2-, and 3-phase power feeds. They unify power connections to control cabinet to single bus module. Products consist of single modules with line as well as single or multiple load terminals with captured screws. Load terminals are available with 1, 2, 4, or 8 poles.
---
Original Press Release:

Weidmuller's Power Distribution Blocks: Power Bus System Delivers Power and Performance While Keeping You Safe


RICHMOND, VA (March 28, 2005) - In expanding its commitment to set the standard in wire connection technology, Weidmuller is proud to announce the addition of its new Power Distribution Blocks to its already impressive selection of IP 20 feed-through application terminals. These DIN rail mountable blocks are intended to distribute power, manage large wire sizes, and of course, maintain finger-safe connections. Further, these distribution blocks allow for multi-pole assembly: easily accommodating single, two and three-phase power feeds in a nicely compact footprint.

Minimize Installation Costs: Weidmuller Power Distribution Blocks (WPDBs) are not your typical distribution blocks: they are clearly designed with the future in mind. They minimize installation costs by unifying power connections to the control cabinet to a single bus module instead of always bulky and sometimes non-finger safe traditional mechanical connectors or terminal-style blocks.

Manage load connections: Load terminals are optionally available from one, two, four, or up to eight finger-safe poles with a single WPDB-and no plastic covers required. Line and load connections are designed to fasten a wide range of wire sizes, making inventory selection for numerous requirements a snap. The designer can plan for extra capacity with safety in mind by covering unused terminals with accessory caps. With application flexibility, reduced installed cost, and safety included, Weidmuller Power Distribution Blocks deliver power and performance and don't offend the safety requirements.

Reduce inventory selections: Weidmuller Power Distribution Blocks utilize just five sizes to accommodate various current ratings and multiple wire sizes. The WPDBs are designed to mount on 35 mm DIN Rail or directly on the electrical cabinet. They are incredibly easy to install-whether it is a single, two- or three- phase load connection. They consist of single modules with line and single or multiple load terminals with captured screws.

Design with flexibility: For multi-load or grouping installations, the Weidmuller Power Distribution System accessory dovetail pins slide into place. Line connections can be left blank and safely covered for future installations and retrofits. And you don't have to write on the blocks! Using our marking tags, you can cleanly print your labels, and snap them in place.

Value and Choice: Weidmuller Power Distribution Block installations provide real value and modern solutions. A single-phase WPDB designed for aluminum conductors starts at just $10.00 for 175 A, and are available now.

Weidmuller is the leading supplier of control and automation solutions such as power delivery solutions, design-build solutions, complete rail solutions, switching technology for control panels, printed circuit board terminals and connectors, and terminal blocks. Weidmuller has approximately 3,400 employees worldwide, with 70 sales organizations or offices in more than 60 countries.

More from Electrical Equipment & Systems