Power Assisted Steering is built for harsh sea environments.
Press Release Summary: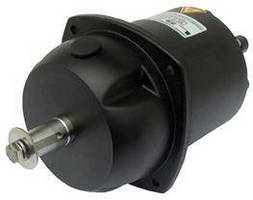 Designed for compliance with marine regulations, Lecomble and Schmitt series includes 10 power assisted steering models that can endow 40-140 ft power and sail boats with smooth and accurate, reactive steering. All models provide one turn of wheel per second at rated torque and have 4.5 turns, lock to lock. Nominally offering controlled and assisted navigational maneuvering, systems also integrate autopilot drives and automatic or manual switchover to traditional hydraulic steering.
---
Original Press Release:

PYI Lauches New Power Assisted Steering System



Recently Appointed L&S Americas Distributor Debuts Steering Systems Line for the Ultimate Maneuvering Ease and Control

Lynnwood, Wash. - PYI, a leading premier manufacturer and distributor of high quality marine, boat, yacht and shipping equipment and supplies, announced today a full range of quality hydraulic steering solutions for power and sail boats, Lecomble and Schmitt (L&S) Power Assisted Steering systems. Designed for vessels of all sizes with regular and intensive use, the power assisted steering model range is compatible with a complete range of drives, cylinders and helm units, delivering the comfort of power steering to many types of vessel previously without steering control options. Building upon L&S' legacy of high quality hydraulic steering solutions with long-life proven performance, the new power assisted line offers boaters smooth steering, accuracy and unparalleled comfort to enhance every on-the-water excursion.

Providing boaters with reactive steering, the L&S Power Assisted Hydraulic Steering systems from PYI are much faster than conventional steering. Offering controlled and assisted navigational maneuvering, the power assisted steering models each provide one turn of the wheel per second at its rated torque and have 4.5 turns, lock to lock. L&S also integrates autopilot steering drives into the power assist systems. The autopilot drives feature reversing variable flow rate pumps and hydraulic linear drives that are perfect for long-range passage making under autopilot control.

"L&S power assisted hydraulic steering system now provides a vast range of boaters with access to the same technology used by multiple round-the-world, single-handed yachtsmen," said Kevin Woody, vice president, PYI Inc. "The new system offers boaters the smoothness of luxury car steering, with a catalog of models that allows boat builders to easily define the correct system by the function of the rudder torque, power supply available onboard and number of steering stations necessary."

The L&S Power Assisted Steering system line consists of 10 models suitable to equip 40- to 140-foot vessels. Designed for the ultimate safety and convenience, the systems feature an automatic switch to traditional hydraulic steering and allow for steering even in the event of power failure. The compete range of L&S Power Assisted Steering systems is purpose built for the harsh sea environments and designed for compliance with the strictest marine regulations, and is protected by a 3-year warranty.

Pricing and Availability:
L&S Power Assisted Hydraulic Steering system models range in price from US $6,000 to US $24,400, and are available for purchase from authorized PYI dealers and distributors throughout the United States and Canada. For more information on L&S Power Assisted Hydraulic Steering systems, PYI and its entire line of marine equipment and supplies, please visit www.pyiinc.com.

About PYI Inc.:
PYI Inc. is one of the premier manufacturers and distributors of high quality marine, boat, yacht, and ship equipment and supplies. Founded in 1981, PYI takes great pride in quickly responding to customer's ideas and needs. PYI's goal is to provide quality, innovative marine equipment with an unsurpassed level of customer service and satisfaction. www.pyiinc.com.

More from Optics & Photonics