Power Amplifier targets high-efficiency VSAT applications.
Press Release Summary: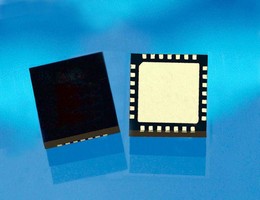 Designed for Very Small Aperture Terminal (VSAT) applications, M/A-COM MAAPSS0111 is 13.75-14.5 GHz, 4-stage, 1.25 W power amplifier that can be used as driver or output stage amplifier. It is designed to generate 31 dBm of saturated output power while drawing 530 mA of current. Housed in RoHS-compliant, 6 mm 28-lead PQFN package, unit has typical power gain of 32 dB with operating voltage of 8.0 V.
---
Original Press Release:

Tyco Electronics Introduces New M/A-COM 13.75 GHz - 14.5 GHz 1.25 W VSAT Power Amplifier



Low-Cost, RoHS Compliant Amplifier Ideally Suited for Applications that Require High Efficiency

LOWELL, Mass. - Feb. 14, 2008 - Tyco Electronics today launched the M/A-COM MAAPSS0111 amplifier, a new 13.75 - 14.5 GHz, four-stage, 1.25 Watt power amplifier specifically designed for Very Small Aperture Terminal (VSAT) applications that require high efficiency. The MAAPSS0111 can be used as either a driver or an output stage amplifier.

"One of the key figures of merit for amplifiers in communication systems is the inter-modulation performance of third order products, IM3," said David Folding, product manager, Tyco Electronics. "The MAAPSS0111 has well behaved IM3 performance over frequency, temperature, and operating power which will enable high data rate communication in next generation VSAT applications."

The amplifier is designed to generate 31 dBm of saturated output power while drawing 530 mA of current. The M/A-COM MAAPSS0111 has a typical power gain of 32 dB with an operating voltage of 8.0 V and typical IM3 of 26 dBc. The amplifier is housed in a RoHS compliant 6mm 28-lead PQFN package.

Pricing and Availability

The M/A-COM MAAPSS0111 is available from stock and is priced at $16.21 for quantities of 100,000. Please contact Tyco Electronics' M/A-COM domestic and international sales channels for price and delivery information. Data sheets and supporting technical documents are available online at http://www.macom.com/.

ABOUT TYCO ELECTRONICS
Tyco Electronics Ltd. is a leading global provider of engineered electronic components, network solutions, wireless systems and undersea telecommunication systems, with fiscal 2007 sales of US$13.5 billion to customers in more than 150 countries. We design, manufacture and market products for customers in industries from automotive, appliance and aerospace and defense to telecommunications, computers and consumer electronics. With approximately 8,000 engineers and worldwide manufacturing, sales and customer service capabilities, Tyco Electronics' commitment is our customers' advantage. More information on Tyco Electronics can be found at http://tycoelectronics.com/.

M/A-COM, the TE logo and Tyco Electronics are trademarks.
Other products, logos and Company names mentioned herein may be trademarks of their respective owners.

For sales information, please contact:
M/A-COM, Inc.
1011 Pawtucket Blvd.
Americas -- 1-800-366-2266
Europe/Middle East/Africa -- +44 1908-574-200
Asia/Pacific -- 81-44-844-8296

More from Electrical Equipment & Systems