Power Amplifier suits WLAN IEEE 802.11b/g applications.
Press Release Summary: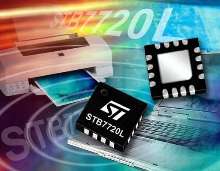 Optimized for 2.4 GHz ISM band, Model STB7720L achieves 32 dB of power gain and 19 dBm of linear output power, with error vector magnitude of 2% under 802.11g modulation at 54 Mbit/s. Three-stage unit includes linear analog control for DC current and output management, and average channel power detector, which has 20 dB dynamic range and provides buffered DC voltage proportional to average channel output. Amplifier consumes 125 mA at 19 dBm output and 60 mA when quiescent.
---
Original Press Release:

STMicroelectronics Introduces Power Amplifier for WLAN IEEE802.11b/g Applications


Geneva, October 20, 2004 - STMicroelectronics (NYSE: STM) has introduced a linear power amplifier for use in wireless LAN applications meeting the IEEE802.11b/g standards. It is designed for use in notebooks, PCs, PDAs and other mobile products.

The STB7720L is a three-stage linear power amplifier optimized for the 2.4GHz ISM band used by WLAN applications. It includes a bias network to improve linearity, power-down and quiescent current regulation. This enables the part to achieve 32dB of power gain and 19dBm of linear output power, with an error vector magnitude of just 2% under 802.11g modulation at 54Mbit/s.

The part includes a linear analog control for DC current and output management and an average channel power detector. This has 20dB dynamic range and provides a buffered DC voltage proportional to the average channel output power. It is insensitive to supply voltage temperature and load mismatch.

The power detector does not need an external integrator, op amp or coupler, reducing the bill of materials and space necessary for designs that use the STB7720L.

Current consumption is 125mA at 19dBm output and 60mA when quiescent, making the STB7720L a good solution for mobile applications.

The part is manufactured in a third-generation proprietary bipolar silicon technology, which means greater thermal stability than GaAs power amplifiers.

The STB7720L is offered in a QFN16 3 x 3mm leadless package and is priced at US$1.30 in quantities of 10,000 units.

About STMicroelectronics
STMicroelectronics is a global leader in developing and delivering semiconductor solutions across the spectrum of microelectronics applications. An unrivalled combination of silicon and system expertise, manufacturing strength, Intellectual Property (IP) portfolio and strategic partners positions the Company at the forefront of System-on-Chip (SoC) technology and its products play a key role in enabling today's convergence markets. The Company's shares are traded on the New York Stock Exchange, on Euronext Paris and on the Milan Stock Exchange. In 2003, the Company's net revenues were $7.24 billion and net earnings were $253 million. Further information on ST can be found at www.st.com.

More from Fluid & Gas Flow Equipment