Power Adhesives Introduces Hot Melt Adhesive for Faster, Easier and More Efficient Bonding of Precast Concrete Forms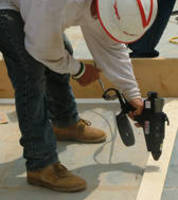 CHARLOTTE, N.C. - A hot melt adhesive system that's perfect for bonding reveal, chamfer, form liners, weld plates and structural and other architectural elements in all types of pre-cast concrete form is now available from Power Adhesives.

Easier, faster and more cost-efficient than any other adhesive type system in the industry, the new Power Adhesive hot melt system consists of a line of Casttec(TM) precast adhesives and one of three TEC(TM) heavy-duty hot melt glue guns. Casttec(TM) applies in dots, beads or a spray pattern using one of three heavy-duty TEC(TM) glue guns tailored to the professional or industrial user.

The new Castec(TM) hot melt systems replace commonly used double-sided tape, solvent-based adhesives, bolting, nailing, silicon or other fastening system.

"Our new hot melt systems are specially tailored for the pre-cast concrete industry and are truly one of the most unique and economical instant bonding systems available today," noted Lee Stegall, Director of Sales for Power Adhesives.

Fast One Step Process

The new Castec(TM) hot melt adhesive system from Power Adhesives bonds to all material types common in the industry including wood, foam, most plastics and some metals.

A fast one step process, the system does not requiring priming, secures a strong bond that sets almost instantly and has an excellent release from form for a fast clean up. Drilling holes in the form to accommodate mechanical fasteners and the need to wait for the adhesives to cure that is common with other systems is eliminated. Applications are also solvent-free to assure employee health and safety.

ADD 1

Provides Superior Strength Against Shear

Power Adhesives' Casttec(TM) Precast Hot Melt Adhesive formulations provides superior strength against shear, which prevents elements from moving on the form as the concrete is flowing and keeps critical form inserts from shifting. It remains tacky for up to three minutes in the event more precise positioning is required. Re-crystallization of the Casttec(TM) Hot Melt occurs over an 8 to 10 hour period. This delayed re-crystallation provides the industry with maximum bond strength during the set-up and pour stage and makes the adhesive easier to clean off the form when precast parts are removed. The Casttec(TM) Hot Melt Adhesive comes in 22 lb (10 kg) cartons.

Three Glue Guns Introduced

Hot Melt Glue guns introduced with the system include the TEC(TM) 3200, the TEC(TM) 6100 and the TEC(TM) 6300. Each system comes with several feet of pneumatic and/or electric cord. The adhesive is in a hot melt cartridge form.

TEC(TM) 3200

The TEC 3200 is a high output, 400-Watt all-electric applicator with an auto-standby safety feature that applies adhesive in a bead or dot formation to the pre-cast form. The gun is easy to use and loaded with 1-¾ in. (43 mm) glue cartridges with a melt rate of up to 7 1/2 -lbs per hour (3.5 kg/hr). A solid-state plug in adjustable temperature controller and a high efficiency heater housing apply the adhesive at temperatures of 265oF, 320oF and 380oF and 420ºF (130oC, 160oC, 195ºC and 215oC).

TEC(TM) 6100

The TEC(TM) 6100 is a totally self-contained 500 Watt electric-pneumatic applicator that extrudes hot melt adhesive and requires only compressed air and electricity to operate. With consistent output, high quality and optimum versatility, the TEC(TM) 6300 is fast and easy to operate. It reloads using 1 ¾-inch 43 mm) cartridges. The melt rate is up to 9-¼ lb/hr (43 kg/hr). The applicator reaches its maximum operating temperature of 380oF (195oC) in just 10 minutes from a cold to start.

TEC(TM) 6300

The TEC(TM) 6300 is the world's highest output hand-held hot melt spray applicator. The 500-Watt applicator covers an area of 21 sq ft (1.95 sq meters) with one cartridge and can be used on heat sensitive materials. Glue cartridges are 1 ¾ in. (43 mm) and the melt rate is up to 11.5 lb/hour (5.25 kg/hr).

ADD 2

Easy to Use

To use the glue gun systems being introduced, connect the glue-gun to an air and/or electrical supply. The adhesive is melted on demand as the pneumatic piston pushes glue cartridges through the melt chamber and sprays it directly onto the pre-cast form.

The TEC(TM) hot melt glue guns comply with worldwide industrial and safety standards and are available along with spare parts and accessories through strategically-located distributors in the U.S., Canada and worldwide.

About Power Adhesives

A United Kingdom based advanced technology productioncompany formed over 36 years ago, Power Adhesives has become the hallmark of TEC(TM) products. Power Adhesives products are sold under the TEC(TM) and TECBOND(TM) brand names. The company uses only the highest quality materials in the manufacture of all its products.

For more information on hot melt systems, email Lee Stegall at l.stegall@poweradhesives.com, call 704-334-2425 or visit www.poweradhesives.com.

Related