Powder Coating Stripper performs at room temperature.
Press Release Summary: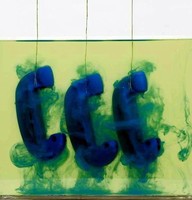 Designed for use in immersion tank with no heating required, D-Zolve 1012 strips hard-to-remove powder coatings and paints from intricate part shapes. Product is compatible with metals, ferrous and non- ferrous, as well as plastics. Stripping time typically ranges from 30 min or less to 2 hr. Designed to minimize health and environmental hazards, product is non-flammable, has no hazardous air pollution potential, and does not contain any carcinogenic compounds.
---
Original Press Release:

Powder Coating Stripper Performs at Room Temperature



Peabody, MA (January 2006)...D-Zolve 1012 from Solvent Kleene, Inc. strips hard-to-remove powder coatings and paints from intricate part shapes. Designed for use in an immersion tank at room temperature, no heating is required. Additionally, waste solids can be filtered out to prolong the useful life of the solution. D-Zolve is compatible with most metals, ferrous and non- ferrous, and plastics.

Immersing powder coated parts in D-Zolve breaks the chemical bond and dissolves the coating. A fast acting powder coating remover, the stripping time typically ranges from 30 minutes or less to two hours.

Designed to minimize health and environmental hazards, D-Zolve 1012 is non-flammable, has no hazardous air pollution potential and does not contain any known carcinogenic compounds. The product is compatible with galvanized steel, aluminum, zinc, copper, brass, stainless steels, and carbon steels as well as most plastic and silicone substrates. D-Zolve 1012 is not DOT regulated.

D-Zolve 1012 is available in either a 5-gallon trial-sized container or a 55-gallon drum. For additional information contact Solvent Kleene, Inc.; 119 Foster Street, Bldg #6; Peabody, MA 01960; Tel (978) 531-2279; Fax (978) 532-9304; e-mail [email protected]; www.solventkleene.com