Potting Compound withstands temperature extremes.
Press Release Summary: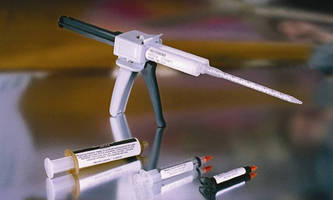 With thermal conductivity of 25 BTU-in./hr-ft
2
-°F and volume resistivity of 1 x 10
14
W cm, Type EP37-3FLFAN dielectric heat transfer adhesive works in temperature extremes, up to 250°F and down to 4K in cryogenic environments. Two-part thermal potting compound is formulated to cure at room temperatures and forms bonds that are resistant to shock, impact, thermal cycling, and chemicals.
---
Original Press Release:

New Potting Compound is Also a Superior Thermal Adhesive



Master Bond EP37-3FLFAN is a thermally conductive, electrically insulative potting compound. An attractive choice for applications where a dielectric heat transfer adhesive is required the two part epoxy exhibits excellent physical strength properties combined with a high degree of flexibility that holds up well in temperature extremes, up to 250°F and down to 4K in cryogenic environments. The thermal adhesive exhibits an impressive thermal conductivity of 25 Btu-in./hr-ft2-°F and a high volume resistivity of 1 x 1014 ohm cm, a high insulative capacity for an electronics potting epoxy. The thermal potting compound is formulated to cure at room temperatures and forms tough bonds that are resistant to shock, impact, thermal cycling and chemicals.

EP37-3FLFAN is an ideal potting material and encapsulation system due its low viscosity and flow characteristics. The uniqueness of EP37-3FLFAN lies in the fact that this thermally conductive adhesive retains a high level of flexibility while having the desirable physical characteristics inherent in epoxies.

About Master Bond's Potting Compounds:

Master Bond is one of the worlds leading adhesives manufacturers located in Hackensack NJ. Offering an impressive line of potting and encapsulation materials, designed to protect electronic circuitry and assemblies from potentially damaging conditions such as moisture, corrosive chemicals, excessive heat, vibration, mechanical impact and thermal shocks Master Bond as a formulator uses rigid and flexible epoxies, polyurethanes and silicone compounds. They feature outstanding electrical insulation characteristics including high volume resistivity, excellent dielectric strength and heat dissipation factors.

Read more about Master Bond's Potting Compounds at
http://www.masterbond.com/produse/produse_pe.html


More from Adhesives & Sealants