Potting Compound handles temperatures to 2800°F.
Press Release Summary: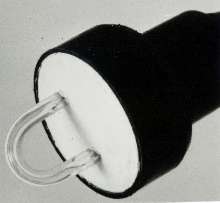 Grade H-115 thermally conductive, electrically insulating ceramic cement resists thermal shock, withstands rapid heating or cooling at wide temperature fluctuations, and prevents vibration-loosening of components. Supplied as single-component, dry, white powder, compound sets by chemical reaction, forming near impervious ceramic within 16 hr. Compound does not contain asbestos or other fibers and produces no noxious off-gasses when curing.
---
Original Press Release:
Ceramic Potting Compound Useful to 2800°F

Dylon Industries Inc. has developed a new electrically insulating ceramic cement called Grade H-115 that is an excellent potting compound for electronic applications. The new material is being used to pot and coat electric resistors, thermocouples, transformers, seal ends of capacitors, and cement insulators and ignitors to metals, glass, and other ceramics.

Grade H-115 will prevent vibration loosening of components that have been potted in the cement. The new ceramic compound is very resistant to thermal shock and can withstand rapid heating or cooling at wide temperature fluctuations. Due to the high density structure and low porosity of the cured cement, it has low permeability to gasses, even at very high temperatures. Molten metals such as copper, solder, and flux will not stick to Grade H-115.

The cured cement is very strong and can withstand high structural loads without cracking. It has high thermal conductivity and will adhere strongly to metals, ceramics, glass, and some plastics.

Grade H-115 is supplied as a single-component dry white powder. After mixing with plain tap water, the cement/potting compound is applied to the surfaces to be joined, or poured into the cavity to be filled. The compound sets by chemical reaction forming an almost impervious ceramic within 16 hours. When dry, the cement can be brought to any temperature up to 2800°F as rapidly as desired. The compound does not contain asbestos or other fibers and produces no noxious off-gasses when curing.

For further information, please contact:

Christopher Reuter

Dylon Industries Inc.

7700 Clinton Rd.

Cleveland, OH 44144

216-651-1300

800-237-8246

www.dylon.com
More from Optics & Photonics