Potentiometer Switch saves panel space.
Press Release Summary: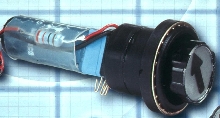 Backlit SW44175 weighs less than 1 oz, measures less than 1 in. dia, and requires 3 in. of space behind display panel. It provides rotary and push-on/push-off functionality, and is rated 30 Vdc or 120 Vac. SPDT switch enables user to specify value so that at push of button, circuit or channel automatically opens at preset level. It has backlit lens assembly with 4 discrete LEDs that light translucent lens assembly and allow interchangeable legends.
---
Original Press Release:
Electro-Mech's Backlit Potentiometer Switch Offers Dual Control Options In Single Unit Space

SOUTH EL MONTE, Calif. - Feb. 22, 2002 - Electro-Mech's new SW44175 backlit potentiometer switch offers both rotary and push-on/push-off functionality plus backlighting for maximum operation control. The compact all-in-one unit saves valuable panel space in applications where there are tight design limitations.

The SPDT switch enables the user to specify a value so that at the push of a button, the circuit or channel automatically opens at the preset level. Featuring a backlit lens assembly and an alternate action pushbutton switch, the SW44175 utilizes four discrete LED's that backlight the translucent lens assembly and also allow custom interchangeable legends. Typical applications for the SW44175 switch include industrial/avionics displays and audio controls, instrument panel controls, and other high-density panels.

Lightweight, the compact unit weighs less than one ounce and measures less than one inch in diameter. The SW44175 requires approximately three inches of space behind the display panel and mounts via a 7/8-inch diameter lockwasher and plastic slotted nut into a 7/8-inch diameter mounting hole. Interceonnection is provided via either wire leads or solder terminals. The SW44175 is rated at 30 VDC or 120 VAC, 2a resistive, 0.5a inductive. Potentiometer resistance is 5Kohm+10% but can be customer specified. Other features provided by the SW44175 include push-on/remain-in/push-off switching, an operating pressure of 32 oz. (+/- 16 oz.), plunger travel of approximately 0.24", and a rated switch life of 50,000 minimum actuations.

Unit pricing is $37.90 at 1,000 pieces with delivery of 12 weeks ARO. Complete specifications are available on request.

Electro-Mech Components, Inc. is located 15 miles east of downtown Los Angeles in South El Monte, California and specializes in the design and manufacture of illuminated pushbutton switches, indicator lights, and multi-switch interlocking assemblies. The company operates its switch manufacturing and shelter manufacturing plants in Tijuana, B.C., Mexico.

For complete specifications and drawings on the SW44175 or the company's entire line of switches contact Electro-Mech Components, Inc., 1826 Floradale Ave., South El Monte, CA 91733-3689; Phone: (888) 442-7180; Fax: (626) 350-8070; E-mail: info@electromechcomp.com; Web: www.electromechcomp.com.


More from Electrical Equipment & Systems