Potentiometer offers integrated digital display.
Press Release Summary: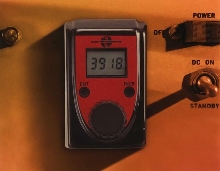 Multi-function Accu-Dial, with 4-digit LCD display, provides visual confirmation of set points. Precise 10-turn potentiometer mounts through 0.375 in. hole and has 3-wire connection to allow for retrofitting. LCD display, with 0.000 to 9,999 range, can be calibrated in any user-defined units. Programming is accomplished via 2 push-buttons on front panel of unit. All calibration data is stored in EEPROM.
---
Original Press Release:
New Accu-Dial Is World's First Programmable Potentiometer with Built-In Display of Set Point Value
Minnetonka, MN-August 5, 2002-Electro-Sensors, Inc. has introduced Accu-Dial, the first multi-function potentiometer with an integrated digital display. The compact Accu-Dial features a 4-digit LCD display that assures greater accuracy from operator to operator by providing visual confirmation of set points. Accu-Dial replaces conventional machine potentiometers in control applications such as AC/DC variable-speed motor drives, temperature control, hydraulic systems, pneumatic systems, and more. Accu-Dial is a precise 10-turn potentiometer that has the same tactile feel as the conventional units it replaces. A robust turning knob offers durability and reduces the chance of mechanical set point movement in high-vibration environments. Accu-Dial mounts quickly through the same 0.375" hole and has the same 3-wire connection as the potentiometers it replaces, so retrofitting is fast and easy. Simple calibration and setup ensures minimal machine and process downtime. "The digital display integrated into Accu-Dial lets the operator know exactly the set point status of the potentiometer without the use of a rate meter, and visual feedback ensures repeatability from one operator to the next", said Mike Kroening, Electro-Sensors Sales and Marketing. The LCD display has a range from 0.000 to 9,999, and can be calibrated in any user-defined User Units, including time in process (TIP). Programming Accu-Dial's four user variables is very simple through the use of two push-buttons on the front panel of the unit, and all calibration data is stored in EEPROM to prevent loss due to power interruption. Accu-Dial is easy to install, requiring only three wires to be connected. Self-adhesive mounting tapes quickly attach the unit to a control panel. Accu-Dial has a small footprint of only 1.875" X 3.0" and is housed in a durable ABS enclosure. Electro-Sensors, Inc. is a leading manufacturer of machine monitoring and motor control technologies worldwide. For more information, go to www.electro-sensors.com or contact: Electro-Sensors, Inc., 6111 Blue Circle Drive, Minnetonka, MN 55343; Toll-free: 1-800-328-6170; (952) 930-0100 Fax (952) 930-0130.
More from Sensors, Monitors & Transducers