Position Sensors / Detectors / Transducers
Potentiometer Membrane Displacement Sensors are compliant to RoHS standards.
Press Release Summary: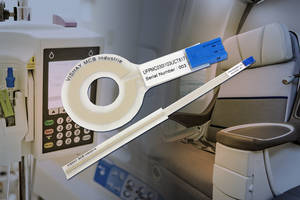 Potentiometer Membrane Displacement Sensors are available UIPMA and UIPMC models. Featuring IP66 seal and double sides adhesive layer, units provide a life of more than 3 million cycles. Operated in -10°C to +50°C temperature range, UIPMA and UIPMC comes with resistance of 4.7 kΩ and 10 kΩ with ± 30 % tolerance respectively. Having temperature coefficient of -300 ppm/°C ± 300 ppm/°C, units are suitable for aircraft seats, telecom antennas, syringe pumps and AC valve openings.
---
Original Press Release:
Vishay Intertechnology Industrial Potentiometer Membrane Displacement Sensors Offer High Durability and Repeatability for Harsh Environments
Waterproof, Ultraflat Devices Feature IP66 Seal, Long Life > 3 Million Cycles
Vishay Intertechnology, Inc. (NYSE: VSH) today introduced new rectilinear and rotational industrial potentiometer membrane displacement sensors designed to deliver reliable performance in harsh environmental conditions. Waterproof and ultraflat, the Vishay MCB UIPMA and UIPMC provide high durability and repeatability for a wide range of applications.
The sensors released today feature an IP66 seal and a very thin active layer with a thickness of 0.5 mm, while a double-sided adhesive layer allows for easy assembly. The devices offer high durability with long life > 3 million cycles (to 10 million and 20 million cycles on request) and operate over a temperature range of -10 °C to +50 °C.
With their durable design, the rectilinear UIPMA and rotational UIPMC are ideal for electrical actuators and cylinder positioning systems for aircraft seats, telecom antennas, syringe pumps and hospital beds, AC valve openings, ship masts, lift-truck steering control, and mining equipment for surveying ground movement. RoHS-compliant, the sensors are available in custom designs.
Device Specification Table:
Part number                                              UIPMA                            UIPMC
Type                                                         Rectilinear                      Rotational
Total resistance                                           4.7 kΩ                             10 kΩ
Tolerance                                                                      ± 30 %
Linearity                                                       ± 2 %                              ± 5 %
Temperature coefficient                            -300 ppm/°C                 ± 300 ppm/°C
Samples and production quantities of the UIPMA and UIPMC are available now, with lead times of 12 weeks for larger orders. Pricing for U.S. delivery only starts at $5 per piece in 1,000-piece quantities.
Vishay Intertechnology, Inc., a Fortune 1000 Company listed on the NYSE (VSH), is one of the world's largest manufacturers of discrete semiconductors (diodes, MOSFETs, and infrared optoelectronics) and passive electronic components (resistors, inductors, and capacitors). These components are used in virtually all types of electronic devices and equipment, in the industrial, computing, automotive, consumer, telecommunications, military, aerospace, power supplies, and medical markets. Vishay's product innovations, successful acquisition strategy, and "one-stop shop" service have made it a global industry leader. Vishay can be found on the Internet at www.vishay.com.
More from Sensors, Monitors & Transducers