Post Fixing Resin produces expanding, fast-setting foam.
Press Release Summary: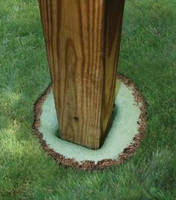 Without requiring special tools or water, Sika® Post Fix 2-part, pre-proportioned polyurethane resin produces expanding foam when mixed. Set time is 3 min for this mix-in-the-bag backfill, which is suited for securing wood, PVC, steel, or concrete in-ground posts and hardens completely in 2 hr. Once mixed and in foam state, product is inert and will not leach into soil. Also, chemical formulation will not harm soil or surrounding environment, and excess material can be cut away with knife.
---
Original Press Release:

Sika® Corporation's Retail Group Launches Revolutionary Post Fix



LYNDHURST, N.J. -- Sika Corporation recently launched Sika® Post Fix, a two-part, pre-proportioned polyurethane resin which when mixed produces expanding foam. It has been specifically formulated and packaged to provide a lightweight, mix-in-the-bag, fast-setting and high-strength backfill for wooden, PVC and steel in-ground posts. The Sika Post Fix formulation is based on Sika's proven foam technology and is designed for the easy, convenient and quick support of many types of posts, including wood, PVC, metal or concrete posts.



Sika Post Fix is ideal for the novice or pro installer and is super easy to apply. One bag replaces two 50 lb. bags of concrete mix, and there are no special tools or water required. The installation is simple and saves the customer time and money as it sets in just three minutes, reducing the time required to brace or support the post when compared to traditional concrete mixes. It hardens completely in just two hours and any excess material cured above the surface of the ground can be cut away with a sharp knife before covering with top soil.



Sika Post Fix has a unique chemical formulation that does not harm the soil or surrounding environment. Once mixed and in a foam state, Sika Post Fix is inert and will not leach into the soil. Sika Post Fix will be available through select The Home Depot stores and other select retailers.



Sika Corporation is the U.S. subsidiary of Sika AG, whose global headquarters are located in Baar, Switzerland. Sika is a specialty chemicals company with a leading position in the development and production of systems and products for bonding, sealing, damping, reinforcing and protecting in the building sector and the motor vehicle industry.  Sika's product lines feature high-quality concrete admixtures, specialty mortars, sealants and adhesives, damping and reinforcing materials, structural strengthening systems, industrial flooring as well as roofing and waterproofing systems. Sika has subsidiaries in 90 countries around the world and manufactures in over 160 factories. Its close to 17,000 employees generates annual sales of CHF 5.57 billion. Sika Corporation is based in Lyndhurst, New Jersey.



CONTACT:

Rosa Romualdo

Brand Development Manager

Residential RSB

+1-201-508-6632

Romualdo.rosa@us.sika.com

More from Material Handling & Storage