Post-Baking Dryer provides uniform moisture control.
Press Release Summary: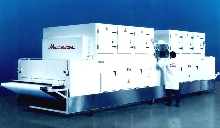 Macrowave(TM) utilizes RF energy, which preferentially heats and dries moist areas of cookies, crackers, and snack foods to eliminate surface checking and control moisture and color. Dryers permit conventional ovens to run at maximum speed that product can be produced with correct loft, crumb structure, and color. They are offered in band widths up to 64 in. wide.
---
Original Press Release:

Post-Baking Dryers Provide Uniform Moisture Control


A series of post-baking dryers that can be custom engineered for cookie, cracker, and snack food production operations to increase oven band speed by eliminating the final drying requirement from the last third of an oven line is available from Radio Frequency Co., Inc. of Millis, Massachusetts.

Macrowave(TM) Post-Baking Dryers utilize RF (radio frequency) energy which preferentially heats and dries the moist areas of cookies, crackers, and snack foods to eliminate surface checking and control moisture and color. Capable of increasing productivity by 30% or more, these dryers remove the drying requirement from ovens to let bakers maintain their oven settings to achieve the product color goals in the last one-third of an oven line.

Developed for high-volume cookie production, Macrowave(TM) Post-Baking Dryers quickly and efficiently remove residual moisture trapped within the center of the product, permitting conventional ovens to run at the maximum speed that a product can be produced with the correct loft, crumb structure, and
color. These RF dryers are available in band widths up to 64"W and case histories describing actual installations are available.

Macrowave(TM) Post-Baking Dryers are priced from $200,000 up, depending upon the configuration. Literature is available upon request.

For more information contact:
Radio Frequency Co., Inc.
Tim Clark, VP Marketing
150 Dover Rd.
Millis, MA 02054
(508) 376-9555 FAX (508) 376-9944
e-mail: tclark@radiofrequency.com
www.radiofrequency.com

More from Chemicals & Gases