Positive Displacement Pipette has ergonomic features.
Press Release Summary: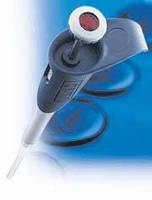 Ensuring necessary pressure equalization within pipette tip, RAININ Pos-D handles difficult to aspirate fluids that are viscous, dense, or high in vapor pressure. Disposable piston embedded within plastic capillary makes direct contact with all liquid contents inside pipette and ensures that given sample is completely dispensed. Ergonomically designed, pipette features large handle and finger-hook, with volume control setting facing user.
---
Original Press Release:

Mettler Toledo Presents RAININ Pos-D



The World's First Positive Displacement Pipette with Ergonomic Features

January 9, 2009- RAININ, a Mettler Toledo company, presents Pos-D, the world's first positive displacement pipette with ergonomic features. With this pipette, RAININ ensures proper handling and dispensing of fluids that are otherwise difficult to aspirate and dispense correctly.

Non-aqueous solutions-namely those that are viscous, dense, or high in vapor pressure-are difficult to aspirate correctly when using regular air-displacement pipettes. RAININ's Pos-D pipette overcomes this challenge by ensuring that the necessary pressure equalization to handle such solutions exists within the pipette tip. For example, a volatile liquid, which would otherwise evaporate and, consequently, force some of the sample out of the pipette tip, remains intact with the Pos-D pipette because of such adequate pressure equalization.

Problems associated with dispensing can lead to very serious, costly errors in the laboratory. With the Pos-D pipette, such problems are kept to bare minimum - thereby yielding more accurate and precise results. The disposable piston, which is embedded within a plastic capillary, makes direct contact with all liquid contents found inside the pipette. This ensures that the given sample is completely dispensed, without a single droplet of residue being left behind. It also means that instrument contamination is completely avoided, as the piston can be disposed of after use.

The Pos-D pipette is designed with ergonomic benefits in mind. Equipped with a large handle, the pipette feels natural and fits comfortably in the hand. The ergonomic finger-hook eliminates the need to grip the pipette firmly, allowing it to rest comfortably in the hand. Finally, the volume control setting faces the user, making the Pos-D pipette visible at all times and helping users avoid any awkward twisting.

About METTLER TOLEDO

METTLER TOLEDO is a leading global supplier of precision instruments and services. The Company is the world's largest manufacturer and marketer of weighing instruments for use in laboratory, industrial and food retailing applications. The Company also holds top-three market positions in several related analytical instruments and is a leading provider of automated chemistry systems used in drug and chemical compound discovery and development. In addition, the Company is the world's largest manufacturer and marketer of metal detection and other end-of-line inspection systems used in production and packaging and holds a leading position in certain process analytics applications. Additional information about METTLER TOLEDO can be found on www.mt.com.

For more information, please visit www.mt.com/RAININ-Pipettes or www.mt.com/RAININ

To contact Mettler Toledo, please visit www.mt.com/contact

More from Sensors, Monitors & Transducers