Position Transmitter indicates control valve position.
Press Release Summary: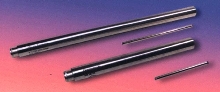 Operating from 10 to 36 Vdc input, HSDI 750 Series loop-powered, 4-20 mA, LVDT position transmitter is constructed of TIG-welded stainless steel. Hermetically sealed device operates in environments where caustic and corrosive materials are present. Available with measurement ranges of 1 to 10 in., series provides non-contact position monitoring and remote feedback. Two-wire position transmitter operates with loop resistance up to 800 ohms.
---
Original Press Release:

Loop-Powered LVDT Position Transmitter Provides Accurate Position Measurement In Harshest Environments


Position Transmitter ideal for control valve position indication, wastewater treatment facilities, process industries and power plants

Pennsauken, NJ, August 14, 2002... Macro Sensors offers the HSDI 750 Series of loop-powered 4-20 mA LVDT position transmitters for accurate position measurement in harsh and remote installations. Constructed of TIG-welded stainless steel and hermetically sealed against hostile environments, these robust devices operate in environments where caustic and corrosive materials are present.

Available in measurement ranges of 1 to 10 inches (25 to 250 mm), the HSDI 750 series transmitters provide reliable, contactless position monitoring and remote feedback of control valves and servo actuators. Units are ideal for use in wastewater treatment facilities, pumping station controls, fossil fueled power plants, agri-chemical dispensing, and refinery operations.

Significant features of the HSDI 750 series include:

o Built-in electronics offer frictionless operation, high resolution, excellent repeatability and low hysteresis associated with LVDT technology along with the convenience and simplicity of a precalibrated current loop output.

o Units are available with reverse output slope, which gives 20 mA when the core is first inserted, decreasing to 4 mA as the core moves inward. Normally, loop current would be 4 mA when the core is inserted, increasing to 20 mA when the core is at full range within the transmitter's body.

Operating from 10V to 36V DC input, the loop-powered, two-wire position transmitters operate with loop resistance up to 800 ohms that minimizes the effect of loop resistance changes on position indication. Units provide exceptional system accuracy with a maximum linearity error of ±0.5% of full range output. Operating temperature range is -20° to +185°F (-30° to +85°C).

HSDI 750 series transmitters operate with a wide range of loop supply voltages so they work with a variety of servo controllers and PLCs, loop-powered analog or digital indicators, and computer-based data acquisition and processing systems. The sensor and its attendant wiring are installed in the hazardous location with the wiring connected to power supplies, indicators and controllers in a non-hazardous or safe location. The two-wire loop input/output connectors are made through a sealed axial connector.

Pricing for the HSDI 750 Series of Loop-Powered LVDT Position Transmitters Series begin at $451. A mating connector plug is supplied with all units. Units are available with metric-threaded cores and/or low friction Teflon bore liners. For price and delivery information, please contact Eileen Ellis at 856-662-8000/ email: sales@macrosensors.com or visit our web site at www.macrosensors.com.

U.S. Route 130 North, Bldg. 22, Pennsauken, NJ 08110-1541
Tel: 856-662-8000 Fax: 856-317-1005

More from Electrical Equipment & Systems