Position Sensors / Detectors / Transducers
Position Transducer serves electro-hydraulic proportional valves.
Press Release Summary: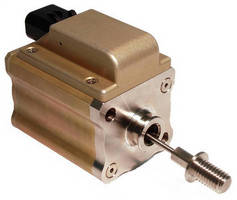 For monitoring and closed-loop control of hydraulic systems in off-road vehicles, LVDT (Linear Variable Differential Transformer) measures position of Electro-Hydraulic servo-valve. Analog transducer offers digital calibration of voltage output, digital linearity correction, and temperature compensation using MEAS technology. Total error band over temperature range is 1% typ, including probe interchangeability over -40 to +120°C range. Various communications options are available.
---
Original Press Release:

High Accuracy OEM Position Transducer for Electro-Hydraulic Proportional Valves



Measurement Specialties, Inc. (NASDAQ: MEAS), an expert in sensor design and manufacturing, has developed and commercialized an LVDT (Linear Variable Differential Transformer) to accurately measure the position of an Electro-Hydraulic servo-valve for monitoring and closed loop control of hydraulic systems for rough environment of off-road vehicles. This MEAS technology platform is well suited for adaptation to customer needs in hydraulic systems or others.

This extremely rugged, highly accurate, analog transducer features digital calibration of the voltage output, digital linearity correction, and temperature compensation using MEAS unique technology. The total error band over this temperature range is typically 1% including probe interchangeability (a great feature in hydraulic systems as the LVDT can be replaced without the need for bleeding) over an operating temperature range of -40ºC to +120ºC. The robust transducer is designed to function with hydraulic pressure applied to the stainless steel front face and spool tube which are joined by a weld to form a pressure isolation tube.

MEAS can provide versions with 4-20mA output, CAN-OPEN or other standard communication protocols based on specific customer needs. We can also easily provide mechanical packages adapted to your needs- for example, for high volume applications using plastic molded housings for even lower costs.

The software includes a self diagnostic sequence at power on which allows testing the electronic circuit before it is integrated into the assembly and during field use. It also performs monitoring functions to signal faults and failures to the system it interfaces with.

If you have an application for this technology and wish to discuss it with our experts, please submit your specification and commercial requirements to the following email address: Inductive.position-OEM@meas-spec.com. For lower volume applications, MEAS also has a full line of catalog transducers and signal conditioners of which some are designed for operation in pressure media such as hydraulic fluids or others (XS-C Series LVDT). We often customize these products to OEM customer applications.

About Measurement Specialties
Measurement Specialties, Inc. designs and manufactures sensors and sensor-based systems. The Company produces a wide variety of sensors and transducers to measure precise ranges of physical characteristics such as pressure, force, vibration, torque, position, temperature, humidity, fluid properties, mass air flow and photo optics. Measurement Specialties uses multiple advanced technologies - including piezo-resistive, electro-optic, electro-magnetic, variable reluctance, magneto resistive, digital encoders, thermistors, thermocouples, RTDs, capacitive, resonant beam, application specific integrated circuits (ASICs), micro-electromechanical systems (MEMS), piezoelectric polymers and strain gauges - to engineer sensors that operate accurately and cost effectively in our customer's applications.

Alain Biondi
Product Manager, Inductive Position Sensors
+1 805.277.7128 (Direct)
alain.biondi@meas-spec.com

More from Fluid & Gas Flow Equipment