Position Sensors / Detectors / Transducers
Position Sensors are suited for wood products industry.
Press Release Summary: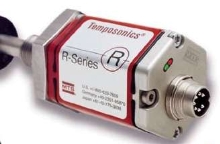 Able to withstand harsh environments, Temposonics® G-Series and R-Series magnetostrictive sensors feature integral diagnostics, external/remote programmability, and isolated sensor and earth grounding. Sensor design minimizes damaged PCBs due to mis-wiring, and immediate detection of missing magnets or improper magnet position helps reduce downtime. G-Series adds shock- and vibration-resistance as well as reduced EMI susceptibility.
---
Original Press Release:

MTS Sensors G- and R-Series Product Families Optimized for Wood Products Industry


Sensors save time and money in wood products applications...

ATLANTA - Forest Products Machinery and Equipment Expo Booth #654 - (June 23, 2005) - MTS Sensors' G-Series and R-Series sensors, the latest innovations in the Temposonics® family of magnetostrictive position sensors, are optimized to directly benefit customers in the wood products industry, as well as other applications subjected to harsh environments. Both series offer the following time- and cost-saving features:

· New ruggedized design to maximize machine productivity and uptime.
· Sensor diagnostics that minimize the cost of operation and maintenance, while replacing the need for a voltmeter or oscilloscope.
· Enhanced sensor design that virtually eliminates damaged PCBs (printed circuit boards) due to mis-wiring.
· Backward compatibility and up to 15 percent cost reductions versus previous models.
· External/remote programmability, eliminating the need to open the sensor housing to make adjustments.
· Immediate detection of missing magnets or improper magnet position(s), further reducing downtimes and reliability.
· Elimination of the need to remove hydraulic oil or re-purge air from hydraulics when installing new sensors.
· A single, programmable sensor model providing migration options and support of future platforms, minimizing inventory constraints.
· Original factory settings and user-adjusted parameters saved in the memory, preserving sensor configuration information.
· Isolated sensor and earth grounding to reduce the possibility of ground loops.

In addition to the features shared with the R-Series such as programming and diagnostic features and improved immunity to harsh environmental conditions, the G-Series' performance characteristics also include increased shock and vibration resistance and reduced EMI susceptibility. Backward compatible installation is simplified because of key similarities to previous MTS sensors lines. For example, the G-Series operates on standard 24VDC or optional 9-23 VDS input power supplies and offers an electronics housing installation that easily fits into the Tempo II sensor envelope.

"The G-Series sensors are completely compatible with our RMC family of motion controllers, as well as our legacy products," said Bill Savela, Marketing Manager for DELTA Computer Systems. "Our evaluations and experience indicate that customers can easily perform replacement installations of the upgraded G-Series, while continuing to rely on MTS sensors in closed-loop servo applications."

The R-Series is a digitally-based "smart" sensor featuring enhanced output capabilities and improved sensing performance and accuracy, as well as diagnostic LEDs and external programming capabilities that help minimize installation and troubleshooting efforts. The R-Series ensures the highest available level of reliability and durability under harsh environmental conditions.

"While the G-Series offers the ruggedness required for many wood industry applications, the R-Series offer an enhanced solution, particularly for applications requiring more digital output and control capabilities," said David Edeal, Temposonics Marketing Manager for MTS Sensors. "Shape sawing machines and similar high-precision applications can take advantage of the additional performance and features available on the R-Series. The additions of both sensor series each offer significant savings in both time and money through a variety of reliability and operational enhancements."

For more information on Temposonics G-Series and R-Series Sensors, please contact: MTS Systems Corp, Sensors Division, 3001 Sheldon Drive, Cary, NC 27513. Phone: (919) 677-0100. E-mail: [email protected] or visit their web site at www.mtssensors.com.

MTS Systems Corporation is the world leader in magnetostrictive linear position sensing technology. MTS Systems Corporation is a global operation, with facilities in the U.S., Germany and Japan. In the U.S., the MTS Sensors Division has an ISO 9001 facility manufacturing rugged and reliable Temposonics position sensors as well as the highly repeatable and accurate Liquid-Level transmitters and gauges. With a strong commitment to research and development, product quality and customer service, the Sensors Division is constantly seeking ways to bring the highest value to customers.