Position Sensors / Detectors / Transducers
Position Sensor requires one connector for two cylinders.
Press Release Summary: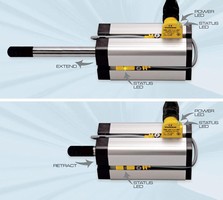 Twin-set sensor is comprised of 2 BIM-UNT sensing heads connected by overmolded cable; power and signal wires are then combined into integral M12 connector on sensor. BIM-UNT sensors measure 28 mm and active sensing faces are located at end of sensor to detect piston rod end position. Accessories range from precision mounting to wire-strain relief products allowing for installation of sensors in T-groove, dovetail, round, and tie rod pneumatic cylinders.
---
Original Press Release:

One Connector for Two Cylinder Position Sensors



Minneapolis, Minn. - TURCK has created a twin-set sensor to augment its line of BIM-UNT cylinder position sensors. The twin-set sensor is comprised of two BIM-UNT sensing heads connected by an overmolded cable. The power and signal wires are then combined into an integral M12 connector on the sensor. Therefore, customers only have to use one 4-wire cordset to connect the BIM-UNT twin-set sensor to their PLCs. The twin-set sensor is especially useful for detecting the extended and retracted position of the cylinder's piston for longer cycles, and it has high sensitivity and switching accuracy. "It is also useful in places where multiple cylinders are installed, as it only needs one wire harness. This helps lessen installation time and wiring costs," says Suchi Deshpande, product specialist with TURCK's sensor division.

BIM-UNT is a universal magnetic field sensor that detects the position of a piston on standard pneumatic cylinders. It is highly immune to EMC and polarity protected, and it has reliable switching points and a fast response time. These and many other design features make the BIM-UNT a desirable alternative for traditional cylinder position sensors.

With a total length of only 28 mm, BIM-UNT is one of the most compact cylinder position sensors on the market. The active sensing faces are located directly at the end of the sensor to safely detect the piston rod's end position on compact, short-stroke cylinders.

BIM-UNT sensors use magneto-resistive, board level technology that provides improved performance and housing. The sensor comes with a quick mount tab that helps seat the sensor in the cylinder's groove even before the screw is tightened, making single-handed mounting possible. The position of the screw has also been moved away from the cable-end, providing cable strain relief while ensuring the sensor remains in place if the cable is pulled.

BIM-UNT sensors include a broad range of accessories, from precision mounting to wire-strain relief products, to help install the sensors in all T-groove, dovetail, round and tie rod pneumatic cylinders.

TURCK is an industry leader providing superior quality sensing, connectivity and network products to help manufacturers improve their automated processes. For other TURCK product or technical information, contact:
Application support: 1-800-544-7769 o www.turck.com o turckusa@turck.com

Our address: Next Communications
10249 Yellow Circle Drive
Minnetonka, Minnesota 55343

More from Sensors, Monitors & Transducers