Motion Sensors / Detectors / Transducers
Position Sensor is field programmable.
Press Release Summary: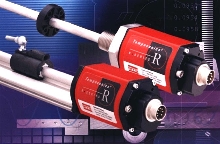 Temposonics(R) R Series AQB quadrature interface position sensor provides resolutions from 50 to 12,500 counts/in., and pulse frequencies from 8 kHz to 1 MHz. Three different application housings are available: Model RH, designed for internal mounting in high-pressure conditions (5,000 psi continuous, 10,000 psi spike); model RP, with 2 magnet-mounting configurations; and model RF, with minimum bend radius of 8 in.
---
Original Press Release:
MTS Sensors' Temposonics(R) AQB Sensor Provides Both Absolute And Incremental Position Data

CARY, NC (March 18, 2001) - MTS Systems Corporation, Sensors Division, offers systems design engineers the Temposonics® R Series AQB quadrature interface position sensor with an incremental output from an inherently absolute position sensor. While continually updating incremental position information, the AQB interface sensor generates an absolute position output either upon power-up or after receiving an input signal from the controller interface. In addition, it is possible to program important sensor parameters such as resolution and pulse frequency from the field. Typical R Series performance and added functionality are built into the AQB interface sensor design eliminating the need for external interface modules.

Unlike typical encoder outputs. the AQB interface provides regularly updated position information at the user specified pulse frequency, providing a more accessible and accurate output even at the slowest speeds. The resolution of the CE-Certified AQB sensor can be varied from 50 to 12,500 counts/inch and the pulse frequency from 8 kHz to 1 MHz. For the highest resolution setting (0.00008 inches/count), position update times are less than 1.5 msec for stroke lengths up to 100 inches. Field programmability gives the sensor a wide range of applicability for a given stroke range. Additionally, the AQB interface provides each quadrature output with its opposite polarity format, reducing susceptibility to external electrical noise.

"Because all Temposonics sensors produce inherently absolute position information, the AQB sensor is capable of producing such an output if necessary - immediately after recovery from a power loss for example," said David Edeal, Temposonics Marketing Manager. "The sensor position is established by sending a 'burst' of quadrature pulses corresponding to the measured absolute position."

The AQB sensor is available in three different application housings: RH, RP and RE that offer modular construction, flexible mounting configurations and easy installation. The Temposonics Model RH is designed for internal mounting in applications where high-pressure conditions exist (5,000 psi continuous, 10,000 psi spike) such as hydraulic cylinders. The Model RH can also be mounted externally in many applications and offers users the ability to replace the sensor cartridge in the field quickly and easily.

The Temposonics Model RP profile style sensors offer two magnet-mounting configurations: captive sliding magnet or floating magnet. RP series sensors are designed for space-restrictive applications and environments where there are high levels of dust and contamination. RP sensors are ideal for external mounting to fixed machine surfaces, where the position magnets can be attached directly or via linkage to a moving member.

Temposonics Model RF "Flex" style sensors utilize a flexible but rugged IP65-rated sensing element. This design senses both linear and complex curvilinear motion with a minimum bend radius of 8 inches. Model RF sensors are not intended for use inside hydraulic or pneumatic cylinders, but are well suited for a wide variety of custom externally mounted housing installations. The RF design can be produced in lengths up to 60 feet (18.3 meters). Coiled for shipment, the flex style sensor fits within a three-foot crate.

For more information, visit the MTS Sensors Division Web site at www.temposonics.com, or contact: David Edeal, MTS Sensors Group, Temposonics, 3001 Sheldon Drive, Cary, NC 27513, call (800) 633-7609, (919) 677-2373 or fax (919) 677-2350.

MTS Systems Corporation is the world leader in magnetostrictive linear displacement technology. MTS Systems Corporation is a global operation, with facilities in the U.S., Germany and Japan. In the U.S., the MTS Sensors Division is an ISO 9001 facility manufacturing rugged and reliable Temposonics position sensors as well as the highly repeatable and accurate Level Plus transmitters and gauges. With a strong commitment to research and development, product quality and customer service, Sensors Division is constantly seeking ways to bring the highest value to customers.

More from Electrical Equipment & Systems