PosiTector Shore Hardness Durometer comes with PosiSoft software suite.
Press Release Summary: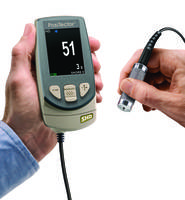 Designed with shock-absorbing, protective rubber holster with belt clip, PosiTector Shore Hardness Durometer features USB port and posiSoft USB drive for simple connection to PC and for accessing web browsers or file explorers. Designed with digital display with reset feature, unit continuously displays average, min/max hardness and standard deviation. PosiTector is available in Shore A and Shore D hardness range and is included with auto ignore mode.
---
Original Press Release:
Introducing the New PosiTector SHD
A Shore Hardness Durometer that is Simple, Durable and Versatile
The New PosiTector SHD Shore Hardnesss Durometer is a handheld electronic instrument that measures the indentation hardness of non-metallic materials. Two durometer models are available for different hardness ranges - Shore A and Shore D.
Easy-to-read digital display has a reset feature to instantly restore factory settings. The durable PosiTector SHD case repels solvents, acid, oil, water and is dust resistant. Includes a shock-absorbing, protective rubber holster with belt clip and has a two year warranty on body and probe.
Accurate
Certificate of Calibration showing traceability to NIST included
Auto Ignore mode disregards readings below 20 and above 90 per international standards
Hi-RES mode increases displayed resolution to 0.1 Includes test block to verify operation
Conforms to national and international standards including ISO and ASTM
Powerful
Continually displays/updates average, standard deviation, min/max hardness and number of readings while measuring
Screen Capture - save screen images for record keeping and review
HiLo alarm audibly and visibly alerts when measurements exceed user-specified limits
USB port for fast, simple connection to a PC and to supply continuous power
PosiSoft USB Drive - stored readings and graphs can be accessed using universal PC/Mac web browsers or file explorers
Includes PosiSoft suite of software for viewing and reporting data
No software required but software updates via the internet keep your gage current
Item Nos. HA-656010, HA-656012, HA-656016, HA-656018
Contact:
Julia LaShure
Digital Marketing Associate
Paul N. Gardner Co.
316 NE 1st Street
Pompano Beach, FL 33060
phone: 954-946-9454
url: www.gardco.com
More from Laboratory and Research Supplies and Equipment