POSIHALL Sensor uses magnetic nonius principle.
Press Release Summary: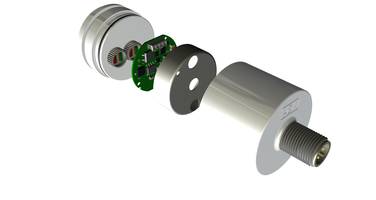 Available in PH36, PH58/PH68 models with measuring range of 31 x 360° and 255 x 360° revolutions respectively, POSIHALL® Sensors are mounted directly onto machine's rotation axis. Capable of detecting measuring data even if machine housing is filled with water or oil, POSIHALL® Sensors can operate in -40°C to +85°C temperature range with 0.5 Tesla magnetic field. Product is used in packaging machines, food processing machines and mobile working machines.
---
Original Press Release:
Still Counting Revolutions? New Magnetic Multiturn Encoder-Technology POSIHALL® - The Robust Alternative to Optical Encoders
ASM Sensors introduces the new magnetic multiturn encoder technology POSIHALL®. The new encoder technology measures true-absolute and is the robust alternative to optical encoders.
Optical encoders are prone to fail under harsh environmental conditions, e.g. by the penetration of moisture or the destruction of breakable glass components. ASM therefore developed the magnetic multiturn encoder technology and product line POSIHALL®. The POSIHALL® true-absolute magnetic multi turn encoder technology measures absolute angular position of a shaft over multiple revolutions by utilizing a gear coupled multi-hall sensor system that uses a magnetic nonius (vernier) principle. In contrast to current magnetic encoder technologies, POSIHALL® is a true-absolute technology ensuring reliable and correct positioning even after disturbances such as a power failure.
POSIHALL® sensors can be mounted directly onto the machine's rotation axis. POSIHALL® sensors are available in protection class up to IP69. The sensor electronics are completely enclosed and protected by a rugged housing. The non-contact magnetic multi-hall technology is able to reliably detect measuring data even if the machine housing is filled with water or oil. The sensor body has an integral shielding against magnetic fields. It works in environments with magnetic field strengths up to 0,5 Tesla. For safety applications POSIHALL® sensors are also available with redundant outputs. POSIHALL® angle sensors operate reliably and precisely with high levels of shock and vibration and in a temperature range of -40°C to +85°C. POSIHALL® sensors are suited for applications such as packaging machines, food processing machines, mobile working machines, offshore applications or wind and solar energy plants.
The measurement range for the PH36 is up to 31x360° revolutions and for the PH58/PH68 up to 255x360° revolutions. POSIHALL® encoders are available with digital (SSI, CANopen und CAN SAE J1939) and analog outputs. The singleturn linearity is 0.3%. POSIHALL® sensors reach a resolution of 14 bit.
Contact:
ASM Sensors, Inc.
650 W. Grand Ave, Unit 205∙
 Elmhurst, IL∙ USA∙
 Tel. +1 630 832-3202
More from Agricultural & Farming Products