Posi-Lock® Keyless Shaft-Hub Locking Devices from Miki Pulley Lock Gears, Sprockets, Pulleys and More in a Mechanical System - They Provide A Solid Connection Between Shaft And Mounted Devices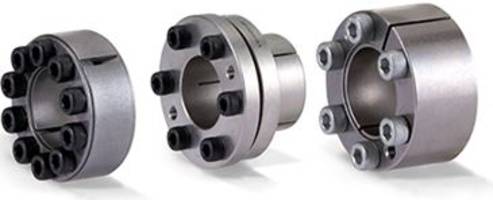 Plymouth, Minnesota: Posi-Lock® bushings from Miki Pulley provide a solid connection between shaft and mounted devices. They provide system designers with a keyless option for locking into position gears, pulleys, sprockets and other components in a mechanical system.
Posi-Lock bushings feature socket-head cap screws that tighten quickly and easily. When tightened, these screws allow the inner and outer hub of the Posi-Lock to move along shaft contact surfaces. The movement between the inner and outer wedge of the Posi-Lock creates a tight, friction connection between hub, shaft and the Posi-Lock.
Posi-Locks eliminate the need for machining keyways, keys and tapped holes. They eliminate the need for tapered shafts, locknuts or other locking devices which are slow and difficult to install accurately.
Providing excellent axial and radial runout, Posi-Locks have a maximum allowable torque of 553.17 ft-lbs (750 Nm) and maximum axial stress of 26,552.24 ft-lbs (36,000 Nm). Three different models are available designed for various applications. Sizes available handle a hole size range from 0.236-inch to 1.654-inch (6mm-42mm).
Posi-Lock applications include machine tools, pumps, molding machines, printing systems, robots and all types of mechanical systems where hub to shaft connections are required.
For more information about Miki Pulley Posi-Lock bushings and the company's complete line of couplings, brakes and clutches, call Jon Davidson at 1-800-533-1731. Email: jdavidson@mikipulley-us.com The Miki Pulley US Sales Office is located at Zero-Max, 13200 Sixth Avenue North, Plymouth, Minnesota 55441-5509. Fax: 763-546-8260.
More from Test & Measurement