POS Workstation targets QSR, retail, and hospitality sectors.
Press Release Summary: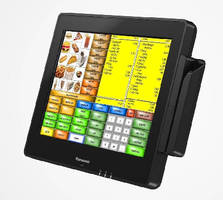 Built to withstand harsh environments, JS-970 All In One comes with 15 in. XGA resistive touchscreen display. Screen can be tilted 20–90° and can swivel 15° left and right. Offering choice of Intel® Pentium ® Processor G3320TE or Intel® Celeron ® Processor N2930, modular workstation includes Intel HD Graphic chip, 4 GB RAM, and 320 GB HDD. Options such as 17 in. SXGA resistive touchscreen, 15 in. capacitive touchscreen, magnetic stripe reader, and optical fingerprint reader are available.
---
Original Press Release:

Latest Panasonic POS Device Sets the Standard for the QSR, Retail and Hospitality Sectors



Created with the key retail principles of flexibility, reliability and customer service in mind; the modular Panasonic JS-970 All In One



Panasonic today announced its innovative modular Point of Sales workstation, the JS-970 All In One. Designed for flexible use and built to withstand harsh environments, the JS-970 All In One is ideal for the quick service restaurant, retail and hospitality sectors and replaces the mid-range, benchmark-setting Panasonic JS-925.



Drawing on Panasonic's 35 years of retail experience and technology leadership, the new JS-970 has been created with the key retail principles of flexibility, reliability and customer service in mind.



Modular approach increases versatility

Flexibility is built into the Panasonic JS-970 with its versatile and modular design enabling the system to be configured to meet the needs of the retail operation.  Interchangeable touchscreens add the ability to customise for individual retailer requirements.



This modular approach also makes servicing and replacing parts very simple, helping to keep the device operational and reducing total cost of ownership.



Touchscreen and promotional display options

The Panasonic JS-970 comes with a 15 inch, XGA (1024x768) display for clear viewing and a resistive touchscreen capability. A 17 inch SXGA (1280x1024) resistive touchscreen and 15 inch capacitive touchscreen are also available as special project options. For ease of use, screens can be tilted from 20-90° angles and swivel 15° left and right, providing a more comfortable use and an improved user experience. Second screens can be added to enable promotional video or advertising to be displayed to customers.



Other additional options include a magnetic stripe reader (ISO track 1,2,3), secure magnetic stripe reader (T-DES and AES encryption), optical scan fingerprint reader and secure magnetic stripe & fingerprint combinations. In addition I-button (Dallas Key) options are available for user login and identification and an optional shutdown battery is available to allow the system to close down safely and securely during a power interruption.



Built to be at the heart of a retail operation

The Panasonic JS-970 is equipped with a range of powered and regular COM and USB interfaces as standard to ensure retailers have the choice to connect to all the peripherals they require, including additional external customer displays in operations such as QSR drive throughs, chip and pin payment terminals and printers. Powering these connected devices through the POS system enables retailers to reduce wiring and costs incurred by additional power adapters.



The processing power to match your needs

With the choice of an Intel® Pentium ® Processor G3320TE (3 MB Cache, 2.3 GHz)  or Intel®  Celeron ® Processor N2930 (2MB Cache, 1.83 GHz up to 2.16 GHz ) , the Panasonic JS-970 has the power to match the needs of the business. Specifying the Celeron processor means the device is fanless, reducing particle and dust intake. With its rugged design and IP52 protected bezel-free display, the Panasonic JS-970 is further protected against dust and water and built to last. The device also includes an Intel HD Graphic chip, 4GB of RAM (max. 16GB), 320GB HDD (Serial ATA) and 64GB SSD as an option.



The POS device supports Microsoft Windows operating systems including Windows Embedded 8.1 Industry Pro Retail, Windows Embedded 8.1 Pro, Windows Embedded POS Ready 7 and Windows 7 Professional for Embedded Systems.



Compatible with existing peripherals

Helping to protect the investments retailers have already made, the Panasonic JS-970 has been designed to be compatible with existing Panasonic POS device cabling and peripherals.



"This latest mid-range POS system further enhances our range of technology retail solutions," said Francesc Castro, Key Team Leader  at Panasonic Retail. "With our rugged POS systems and comprehensive selection of Toughpad tablets, Panasonic is ideally positioned to help solve cash register, order taking, inventory, picking, restocking and assisted selling challenges for customers in the fast food and restaurant sector, retail stores and supermarkets."



Availability

The Panasonic JS-970 All In One will be available from November.

For further information, visit: http://www.toughbook.eu/



About Panasonic System Communications Company Europe (PSCEU)

PSCEU is the European branch of Panasonic Systems Communications Company, the global B2B division of Panasonic. PSCEU's goal is to improve the working lives of business professionals and help their organisations' efficiency and performance. We help organisations capture, compute and communicate all sorts of information: image, voice, and textual data. Products include PBX telephone switches, document printers, professional cameras, projectors, large visual displays, rugged mobile PCs and fire alarms solutions.  With around 400 staff, engineering design expertise, global project management capability and a large European partner network, PSCEU offers unrivalled capability in its markets.



PSCEU is made up of four product categories:



Communication Solutions, including professional scanners, multifunctional printers, telephony systems and SIP terminal devices.

Visual System Solutions, including projectors and professional displays. Panasonic offers the widest range of Visual products, and leads the European projector market with 28 % revenue share. (Futuresource B2B market tracking, Q1/2014)

Professional Camera Solutions, including Broadcast & ProAV products, security, fire alarm systems and industrial medical vision (IMV) technology. Panasonic is one of the top two professional camera vendors in Europe.

Computer Product Solutions helps mobile workers improve productivity with its range of Toughbook rugged notebooks, Toughpad business tablets and electronic point of sales (EPOS) systems. As European market leaders, Panasonic Toughbook had a 66.4% revenue share of sales of rugged and durable notebooks and Panasonic Toughpad held a 50.4% revenue share of sales of rugged business tablets in 2013 (VDC Research, March 2014).



About Panasonic

Panasonic Corporation is a worldwide leader in the development and engineering of electronic technologies and solutions for customers in residential, non-residential, mobility and personal applications. Since its founding in 1918, the company has expanded globally and now operates over 500 consolidated companies worldwide, recording consolidated net sales of 7.70 trillion yen (71.5 billion Euros) for the year ending March 31, 2014. Committed to pursuing new value through innovation across divisional lines, the company strives to create a better life and a better world for its customers. For more information about Panasonic, please visit the company's website at http://panasonic.net/

More from Sensors, Monitors & Transducers