Portescap Brushless DC Motors Achieve ISO 13485 Certification for Respirators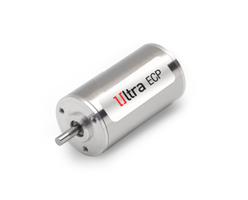 Portescap, a leading global manufacturer of miniature and specialty motors, announces that its slotless brushless DC motors for respirators have received ISO 13485:2016 certification. Thanks to this compliance, medical device original equipment manufacturers (OEM) can be confident their motion control system has been manufactured to the highest quality standards.
Expanding on ISO 9001, this standard contains specific requirements for parts traceability and risk management activities throughout the design and development stages. It also requires process and software validations at defined intervals. Presented by independent risk management and quality compliance firm, DNV GL, ISO 13485 compliance is an important part of Portescap's quality management system and demonstrates its consistency in design, development, production, storage and distribution.
As a result of ISO 13485 compliance, OEMs can be certain that products manufactured at Portescap's 72,000-square-foot facility in Mumbai, India meet the highest standards for quality and consistency. The plant currently includes over 1,100 staff and is outfitted with machining, winding and injection molding equipment, as well as an electrostatic discharge (ESD) safe assembly facility.
For more information visit: www.portescap.com
About Portescap
Portescap offers the broadest miniature and specialty motor products in the industry, encompassing coreless brush DC, brushless DC, stepper can stack, gearheads, digital linear actuators and disc magnet technologies. Portescap products have been serving diverse motion control needs in a wide spectrum of medical and industrial applications—medical, life science, instrumentation, automation, aerospace and commercial applications—for more than 70 years.
Portescap has manufacturing centers in the United States, St. Kitts and India, and utilizes a Global Product Development network with research and development centers in the United States, China, India and Switzerland.
T2 Marketing Communications
18 Cattano Avenue, Unit 3C
Morristown, NJ 07960
Glen TURVEY Glen
Phone: 973 206 3090 x 201
glen@t2marcom.com