Portable Workstation suits mobile telecom applications.
Press Release Summary: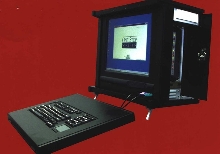 CompactPCI Portable Workstation supports up to 8 CompactPCI slots and is designed for applications where stand-alone computing system is required for diagnostics and monitoring. Its 6U card cage is encased in black anodized aluminum housing that includes 17 in. flat panel display and detachable keyboard. Workstation features two 5 1/4 in. drive bays, dual hot swappable fan canisters, and 300 W power supply. It can be carried by self-retracting handle.
---
Original Press Release:

One Stop Systems Introduces CompactPCI Portable Workstation for Mobile Telecom Applications


- Scalable and feature-rich enclosure meets variety of application requirements
- Encased flat panel display and detachable keyboard provide instant functionality

June 2002, Escondido, CA - - One Stop Systems announces the introduction of the ideal CompactPCI Portable Workstation for datacom/telecom applications where a stand-alone computing system is required for diagnostic and monitoring applications. Supporting up to eight CompactPCI slots, the 6U card cage is encased in a black anodized aluminum housing that also includes a 17" flat panel display and a detachable keyboard. The Portable Workstation weighs less than fifty pounds and can be easily carried by its self-retracting handle. Front and rear access doors retract into the enclosure.

"One Stop Systems continues to broaden its offering of innovative CompactPCI products with the Portable Workstation," said Steve Cooper, president and CEO." Originally designed for mobile military telecom applications, the Portable Workstation offers an array of optional features, like the removable disk drive canisters, system monitor board, and a variety of backplanes that lends itself well to a multitude of mobile applications."

The Portable Workstation sells for $8,163 (OEM volumes) and is available immediately.

The Rugged and Versatile CompactPCI Enclosure
The Portable Workstation combines the ruggedness of CompactPCI with features like front and rear black nylon bumper strips on the black anodized aluminum case. Versatile features include installing a 6-slot cPCI backplane and optional disk drive canisters for applications that require increased storage. An 8-slot backplane can be installed in cases where more peripheral slots are required. Backplanes can include optional H.110 telephony bus and packet switch configurations. Two 5-1/4" drive bays mounted above the card cage, are ideally suited for a CDROM and a tape drive. The Portable Workstation demonstrates exceptional cooling with dual hot swappable fan canisters mounted below the card cage. Each canister contains two fans that blow air up across the boards. A 300-watt power supply with two integral fans is mounted below the card cage. An AC input, fuse, and filter are located on the rear of the enclosure. The on/off switch and power on LED are located on the front of the power supply.

The monitor and keyboard
The Portable Workstation has an integrated 17" color flat panel active matrix display. The display is a self-contained unit including display controller and connects to a standard VGA connector on the CPU board. Display controls are located on the display bezel. The detachable full-size keyboard and glide pad module latches to the main enclosure. The module connects to the computer's keyboard and mouse via a mini-Din connector.

Options
Additional storage can be acquired with the optional removable hard disk drive canisters. These canisters allow two or 3-1/2" hard disks to be installed in the system. The four SCSI hard drive canisters support 3.5" hard drives equipped with SCA connectors that plug into the backplane. The vertically mounted canisters are easily removed with a convenient thumb latch and access handle. Drive mirroring and RAID (Redundant Array of Independent Drives) levels can be employed, as the application requires.

CPU board options
One Stop Systems offers a PIII 700Mhz CPU board, with 512MB DRAM, and a 20GB hard disk drive and floppy drive for $3,883, list. Other CPU configurations include dual 800Mhz and dual 1.26Ghz processors.

About One Stop Systems
One Stop Systems designs and manufactures a broad selection of standard, custom, and semi-custom CompactPCI systems and components for telecom, industrial control and military applications. Responsive service, highest quality design and manufacturing, and on-time delivery characterize our customer expectations. In addition, One Stop Systems' product catalog at www.onestopsystems.com offers the broadest selection of CompactPCI components and systems available. Systems can be configured and products procured over the site. For more information, contact Mark Gunn at (760) 745-9883, FAX: (760) 745-9824, or visit our web site at onestopsvstems.com.

Media Contact:
Mark Gunn
Vice President, Sales & Marketing
One Stop Systems, Inc.
mgunn@onestopsvstems.com

More from Controls & Controllers