Portable Work Lights provide 8,200-16,400 lumens.
Press Release Summary: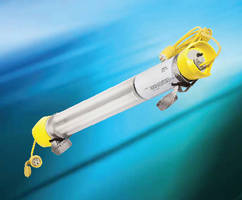 Available in 120, 240, and 277 Vac versions, LuxCommander™ Work Lights combine shock-absorbing aluminum frame and polycarbonate shell with heavy-duty polyurethane caps and lamp holders to protect against accidental drops. USA-made units feature feed through for daisy chaining up to 10 fixtures to one power source. Environmentally sealed for use in non-hazardous wet locations, lights are suitable for manufacturing, inspection, and maintenance applications.
---
Original Press Release:

Lex Products Expands into Industrial Lighting with New LuxCommander(TM) Portable Work Lights



Lex Products Corporation has announced its expansion into the industrial lighting market with the debut of its new LuxCommander™ Portable Work Light Series. This line extension follows Lex Products' acquisition of ATS Lighting Inc., an Acton, Massachusetts-based manufacturer of industrial portable fluorescent work lights and temporary lighting systems, which took place on February 5th.



"ATS Lighting's line of industrial work lights, re-branded 'LuxCommander,' presents an ideal opportunity to better meet the needs of Lex Products' customer base with a broader selection of portable power solutions," said Mike Scala, president of Lex Products. "The lights are the highest quality and complement Lex Products' line of portable power distribution solutions perfectly."  Scala added that the newly named LuxCommander products possess the same brand characteristics as Lex Products' offerings, as they are innovative, safe, durable, high-quality and made in the USA.



Lex Products' new LuxCommander Portable Work Lights feature a Patented design and deliver three times the light output of conventional fluorescent work lights for brighter and safer worksites. Typical uses include manufacturing, inspection and maintenance applications for industrial, aircraft/aerospace, marine/shipyards, temporary emergency shelters and utility markets. 



The lights are manufactured to be lightweight, yet durable enough to withstand rough treatment and harsh environments.  A rugged, shock-absorbing aluminum frame and polycarbonate shell, combined with heavy duty polyurethane caps and lamp holders protect against accidental drops and make the LuxCommander Portable Work Lights virtually indestructible. 



Available in three versions, LuxCommander Portable Work Lights provide light output ranging from 8,200 to 16,400 lumens and feature a feed thru for daisy-chaining up to 10 fixtures to one power source. All models are available in 120, 240 and 277 VAC versions. The fixtures are environmentally sealed for use in non-hazardous, wet locations. In addition, the LuxCommander Portable Work Lights are twice as energy efficient as conventional fluorescent fixtures. 



For more information, visit www.lexproducts.com or call 1-800-643-4460.



About Lex Products:

Lex Products Corporation is a leading manufacturer of innovative power distribution and control systems for demanding markets, including entertainment, industrial and the military. Founded in 1989, the company specializes in portable power systems including distribution boxes, cable assemblies, cable protectors and other products, designed to withstand rough use and harsh environments.



Headquartered in Shelton, Connecticut, the company also has offices in Sun Valley, California. Lex Products is ISO 9001:2008 certified for all production, operations and support services across its three facilities. In 2012, Lex Products ranked 78th in the Manufacturing segment on Inc. Magazine's Inc. 5000. To learn more about Lex Products, please visit www.lexproducts.com.

More from Fluid & Gas Flow Equipment