Portable Weather Station deploys in 5 min or less.
Press Release Summary: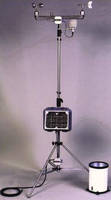 Casella NOMAD(TM) features sensors for wind speed/direction, temperature, humidity, solar radiation, air pressure, and rainfall and supports up to 4 more sensors. Aluminum system weighs less than 30 lb and incorporates built-in solar panel for power and SENSUS data-logger with 512K internal memory, on-board data display, and support for Compact Flash memory cards. Included PC software provides data management and unit can be communicated with via laptop/telephone/radio modem.
---
Original Press Release:

Casella NOMAD(TM) Portable, Solar-Powered Weather Station Deploys in 5 min or Less



Data-logging Weather Station Monitors Wind Speed and Direction, Barometric Pressure, Temperature, Humidity, Dew Point, Rainfall and More

AMHERST, NH, June 9, 2009 - Due to increasing environmental legislation, many industrial activities including construction, demolition and land remediation now have a requirement to monitor local meteorological conditions. To answer that need, Casella USA offers the NOMAD, the first truly portable monitoring station designed for ease of transportation, rapid deployment and quality of measurement.

"The NOMAD is an ideal tool for environmental consultants, researchers, meteorologists and industrial users," said Bob Selwyn, V.P. of Sales at Casella USA. "Plus, we now offer a version with ALOHA (Area Locations of Hazardous Atmospheres) software especially designed for first responders in hazmat situations. For example, where a gas cloud was released, the NOMAD with ALOHA can help predict how the cloud will disperse over a large area."

The aluminum based NOMAD system weighs less than 30 lbs and is supplied in 3 customized carrying bags, ready for deployment in 5 minutes or less. Disassembly is just as quick, allowing the technician to be packed and in route to the next monitoring location without delay. It boasts professional quality sensors for wind speed and direction, temperature, humidity, solar radiation, air pressure and rainfall, with options for up to four more sensors such as soil temperature, leaf wetness, grass temperature, SOX and NOX. A built-in solar panel supplies power, enabling the station to run continuously in a remote environment.

The revolutionary new SENSUS data-logger is at the heart of the NOMAD, with 512K of internal memory, on-board data display and memory expansion using Compact Flash memory cards. PC software enables convenient data downloading, archiving, reporting and real-time condition monitoring. Users communicate with the station via laptop, telephone or radio modems.

For more information, please call 800-366-2966 or email info@casellausa.com. On the web at www.casellausa.com.

ABOUT CASELLA CEL

Founded in 1799 and headquartered in the United Kingdom, Casella CEL is one of the world's leading suppliers of environmental monitoring technologies. It is an ISO 9001-2000 and ISO 14001 certified company with a focus on the development and manufacture of state-of-the-art environmental monitoring instrumentation. Casella CEL instruments are preferred around the world for personal air sampling, real-time dust and particulate measurement, heat stress measurement, IAQ assessment, weather and rainfall monitoring, personal noise dosimetry, environmental noise measurement and real-time frequency analysis. In 2006, Casella CEL was acquired by Ideal Industries, Inc. For more information, please visit www.casellameasurement.com.

Casella USA is the North American subsidiary of Casella CEL and is headquartered in Amherst, New Hampshire. Sales, service and instrument recalibrations are carried out in the Amherst office by factory trained engineers. This office covers all sales in Canada, the USA and Mexico. For additional information, please visit www.casellausa.com.

®2009 Casella CEL. All product names and trademarks belong to their respective owners. Information in press releases, including without limitation product, specifications, and contact information, is current on date of the release, and is subject to change without notice. Reseller prices may vary.

More from Packaging Products & Equipment